IN PRELUDE TO $5 MILLION BREEDERS' CUP CLASSIC, SUPERSTAR MARE BEHOLDER & TRIPLE CROWN CHAMPION AMERICAN PHAROAH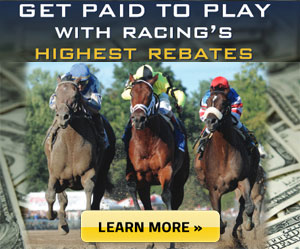 EACH WORK FIVE FURLONGS FRIDAY MORNING AT SANTA ANITA
ARCADIA, Calif. (Oct. 9, 2015)—With the clock winding down to what looms an epic showdown in the $5 million Breeders' Cup Classic on Oct. 31, superstar mare Beholder and Triple Crown Champion American Pharoah each worked five furlongs on Friday morning at Santa Anita.
Immediately following the 6:30 a.m. renovation, two-time Eclipse Award winner Beholder jogged and then galloped straight off from the quarter mile chute and was set down approaching the half mile pole for an eye catching move that culminated a furlong past the wire with regular exercise rider Janeen Painter up. The 5-year-old mare by Henny Hughes, who is trained by Richard Mandella, was given a time of 1:02 "breezing" by Santa Anita's official clocking crew.
"I'm very happy with how she looks," said Mandella. "She went five eighths in 1:01 and change (on his watch) and couldn't look better…It is such an exciting challenge to run against (American Pharoah)…Usually I'm stressing about what to do, which I am, but the excitement of this is a little different. It's nice to be a part of it. She'll leave for Kentucky on Oct. 19."
Following the work, Beholder walked through the Grandstand tunnel to the Seabiscuit Walking Ring and then straight back to Mandella's Barn 4. Owner B. Wayne Hughes, a USC alum who attended the Trojans' 17-12 shellacking at the hands of the University of Washington Thursday night at the LA Coliseum, did not attend the workout as originally planned.
Bob Baffert's American Pharoah came on the track just after Beholder, walked and jogged straight off with Martin Garcia aboard and was accompanied by Baffert's primary assistant, Jimmy Barnes who was on a stable pony. After standing on his own far off the rail on the Club House turn, "Pharoah" then headed to the backside, and like Beholder, worked from the half mile pole to the seventh eighths, getting a half mile in 48.40 and five furlongs in 1:01.20.
"I got him in 49 and 1:01," said Baffert. "I didn't want to do a lot with him. He'll breeze two more times here. I change from day to day, but he'll breeze here next week.
Although initial plans were to ship to Kentucky well in advance of the two-day Breeders' Cup at Keeneland on Oct. 30 & 31, Baffert has now decided to ship in much closer to the Classic, citing uncertain weather in the area as the primary reason.
"I have a few dates in mind, but I haven't really zeroed in on it. The 27th is the last date, and there's the 25th. I'm watching the weather," said Baffert.