• Haskell runner-up McCraken on work tab for possible G1 Travers bid • Salty 'super' ahead of G1 Alabama; World Approval 'on top of his game'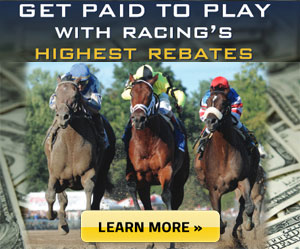 • Lookin At Lee eyeing start in Travers • Travers contender Girvin 'perfect' since Haskell victory • Free Drop Bill targets G1 Hopeful • G1 Woodward contender Shaman Ghost works five furlongs • Unchained Melody to breeze Friday for Alabama
SARATOGA SPRINGS, N.Y. -Whitham Thoroughbred's Grade 1, $1.25 million Travers presented by NYRA Bets candidate McCraken turned in a four-furlong "maintenance work" on Thursday morning over the Oklahoma training track at Saratoga Race Course, his first serious bit of training since finishing a close second in the Grade 1 Haskell Invitational.
Hitting the track shortly after 6 a.m., the multiple graded stakes winner breezed a solo half-mile under regular exercise rider Yoni Orantes in 49.03 seconds, the fastest of 31 at the distance.
"It was just a maintenance work," said trainer Ian Wilkes. "The horse is happy, he's doing well. We just wanted to let him stretch his legs.
"I'm very pleased with how he's come out [of the Haskell]," he added. "From what I've seen, he hasn't left an oat. His energy is very good. He's extremely happy. I feel like he's moved forward from that race."
McCraken could be on course for a rematch in the "Mid-Summer Derby" with Haskell victor Girvin, who nipped the 3-year-old Ghostzapper colt to win by a nose on July 30 at Monmouth Park. Prior to the Haskell, McCraken rebounded from an eighth-place finish in the Kentucky Derby with a 2 ¼-length victory in the Grade 3 Matt Winn in June at Churchill Downs.
McCraken was undefeated in three starts as a 2-year-old, including a 1 ¼-length win in the Grade 2 Kentucky Jockey Club. He carried his win streak into his 3-year-old seasonal debut in the Grade 3 Sam F. Davis at Tampa Bay Downs in February before a minor injury pushed his next start back nearly two months, eventually marking his return with a third-place finish in the Grade 2 Blue Grass on April 8.
"He's very talented," said Wilkes. "He's a little bigger, a little stronger. He's starting to mature more. He's gotten into a nice rhythm now."
McCraken, Wilkes said, could work twice more in the 16 days leading up to the Travers on August 26.
"Just don't ask me when," he added. "I like to get into a rhythm and the horse tells me when he's ready to work. I wasn't going to work today, I was going to wait until tomorrow but the horse was ready today."
Wilkes could have a strong stakes contender on the Travers Day undercard in Grade 2 Alysheba winner Bird Song, currently under consideration for the Grade 1, $600,000 Forego, a "Win and You're In" qualifier for the Breeders' Cup Dirt Mile.
In his most recent start, Bird Song, a 4-year-old colt by Unbridled's Song, cut back considerably in distance following an eighth-place finish in the 1 1/8-mile Grade 1 Stephen Foster to six furlongs in the Grade 1 Alfred G. Vanderbilt on July 29, where he raced wide to finish fourth, 9 ¼ lengths behind front-running winner El Deal.
"I think he's going to be better shorter and around one turn," said Wilkes. "I think he's going to be best at seven-eighths to a mile. I don't think he wants to go past that. He came out of [the Vanderbilt] good, he's moving forward. We'll nominate [to the Forego], look at it, and just see how he trains up to it." * * *
Salty, third in the Coaching Club American Oaks is "doing super," said trainer Mark Casse, and is on target for the Grade 1 Alabama on August 19. The daughter by Quality Road should have fared better in her last race, but instead spotted the field a few lengths at the break and ran wide at the quarter pole, losing precious ground.
"I wanted to cry," Casse said. "I didn't think she really had a fair start. I already said my piece, she wasn't ready to break. Interesting, too, was she ended up having a wide trip, but it's like when they turn for home, she was almost head and head with them. She went straight. They cut the corner, and the next thing you know she was four lengths behind again. It was weird.
"She was still running, she was getting to them a little at the end, but you can't do that," he added. "A masterful ride by Mike Smith beat us in the Acorn, the only race she really hasn't run in was the Oaks. She got stopped twice. She's nice. It's going to be a tough race. They're coming from everywhere."
Salty finished as the runner-up to Abel Tasman in the Grade 1 Acorn, and has finished behind the winning filly in her last three starts, beginning with the Grade 1 Kentucky Oaks. Casse will have to wait for revenge on the California star, who will not run in the Alabama and not have a chance to sweep the Triple Tiara, the Acorn, Coaching Club American Oaks, and Alabama.
"I'm tired of getting beat by her," Casse said. "I think we can beat her, but haven't so far."
Live Oak Plantation's World Approval will make his 22nd career start, and fourth this year for Casse in the Grade 1, $500,000 Fourstardave on Saturday. The gelding by Northern Afleet looks to rebound off his last performance, a fifth-place finish in the Grade 1 Manhattan on Belmont Stakes Day. His form seems to be there, but his ideal distance remains in question, Casse said.
"He's on top of his game. Our feeling is that maybe we've been running him too far, and maybe when we run on Saturday, we may come back and say well we ran too short," he said. "We want to try him back at a mile, and kind of see. I've been running him a mile and three eighths, a mile and a quarter, it just seems to be a little beyond his reach, so this is a little bit of an experiment because we're hoping that obviously with a good performance we're looking at the Breeders' Cup." * * *
Lookin At Lee, who has been working at Saratoga since July, is a possibility for the Grade 1 Travers, Hall of Fame trainer Steve Asmussen said Thursday morning.
Lookin At Lee, who ran third in the Grade 3 West Virginia Derby on Saturday, would be working towards his first Grade 1 start since finishing seventh in the Belmont Stakes on June 10.
"We're absolutely looking at the Travers," Asmussen said. "You put a bunch of 3-year-olds together going a mile and a quarter; we want to run."
The Lookin At Lucky colt rallied from 10th to finish on the board in the West Virginia Derby, contested at 1 1/8 miles at Mountaineer Park.
"It was a solid effort, I don't think that the racetrack suited him," Asmussen said. "He's a huge horse. We talked about it as the day was unfolding that it wasn't ideal for him, but like always, he did his best."
The Kentucky Derby runner-up shipped back to Saratoga on Sunday and is expected to breeze on Monday, Asmussen said. Owned by L and N Racing, Lookin At Lee was the only horse to run in all three legs of the Triple Crown this year, finishing fourth in the Grade 1 Preakness.
"Both of his breezes will probably be here on the training track," Asmussen said about his schedule leading up to the Travers. "We're just trying to keep him happy."
Fresh off his 5 ¼-length win in the Grade 1 Whitney on August 5, Asmussen said Gun Runner is still on target for the Grade 1, $750,000 Woodward on September 2.
"He's gone back to the track real good, so the Woodward it is," he said. * * *
Picking up his first career Grade 1 victory last out on July 30 in the Haskell Invitational at Monmouth Park, trainer Joe Sharp reported that multiple graded stakes winner Girvin has continued to do well since exiting the race and is under strong consideration to run in the Grade 1 Travers.
"He came out of it [the Haskell] perfect," said Sharp. "He's been getting better and better since the race and he continues to move forward."
Winning his debut at Fair Grounds in December, the Tale of Ekati colt went on to win a pair of Grade 2 races in the Risen Star and Louisiana Derby in the spring. Although the wins put him near the top of the Kentucky Derby leaderboard, Girvin finished 13th in the "Run for the Roses" while still recovering from a quarter crack in his right foot.
After the Derby, Girvin was given time, said Sharp, and he went on to run a respectable second in the Grade 3 Ohio Derby at Thistledown on June 24 before winning the Haskell.
"Obviously, the whole deal coming up from New Orleans and the whole week leading into the Derby is strenuous," said Sharp. "His two weeks leading up to the Derby were tougher than anybody else's. We gave him three weeks after the race before his next breeze and freshened him up a little bit. In that time, we let his foot grow out and we were able to have full shoes on him. We had full shoes on him in the Ohio Derby and he ran huge that day and came out of it physically tighter and continues to move forward."
Galloping on the main track Thursday morning, Sharp confirmed Girvin would next breeze over the Oklahoma training track on Saturday morning.
"He seemed to handle [the gallop] very well," said Sharp. He continues to get physically tighter and I expect the same effort as he's given in his last two starts. If that's good enough to win [the Travers], we'll find out, but I know he'll give a good performance." * * *
Singing Bullet put in his first work since running third in the Grade 2 Amsterdam on July 29, breezing four furlongs in 48.92 seconds on the main track Thursday. The 3-year-old Hard Spun colt had returned to graded stakes ranks after winning against allowance company on June 23 at Churchill, finishing behind Excitations and winner Coal Front in the 6 ½-furlong sprint.
Romans said he is likely to enter Singing Bullet in another stakes at the Saratoga meet but hasn't made a decision yet.
"We haven't figured out what we're doing yet, we might stretch him out a bit," Romans said. "We'll talk after he works next."
Free Drop Billy is targeting the Grade 1, $350,000 Hopeful on Saratoga's closing day, September 4, Romans said.
Free Drop Billy breezed four furlongs in 47.55 seconds on the main track Sunday, marking his first work since finishing second in the Grade 3, $150,000 Sanford. The 2-year-old son of Union Rags, who won his debut June 15 at Churchill, went four-wide in the stretch and closed in on Firenze Fire, falling just one length short in the six-furlong sprint. Romans said he came out of that race in good order and will continue training at the Spa.
Sweeping Paddy will get a freshening after finishing 10th in the Grade 3 Lake George on July 21. The 3-year-old Kentucky bred has raced six times this year, including a win in the Grade 3 Regret on June 17 at Churchill before weakening late in the Lake George.
"We're going to give him a little break," Romans said. * * *
Stronach Stable's multiple graded stakes winner Shaman Ghost turned in a slightly eventful five-furlong breeze over the Saratoga main track on Thursday morning in preparation for his title defense in the Grade 1, $750,000 Woodward on September 2.
The Jimmy Jerkens trainee was warming up when another horse got loose on the track, forcing Shaman Ghost's rider to take a hold of the 5-year-old son of Ghostzapper. He got back to business a few minutes later, catching up to a pair of workers ahead of him, going wide around the other set to complete the move in 1:01.43.
"[The rider] had to pull him up because of the loose horse, so he had to start over again and he ended up getting tied in with the others," said Jerkens. "He didn't want to go with them, then he did, then he didn't, so he ended up going wide. It wasn't quite what we were looking for. We'll have to come back with him next week and hope he does something better."
The breeze was his third since finishing second to Keen Ice in the Grade 2 Suburban on July 8 at Belmont Park. Last summer, Shaman Ghost picked up his first Grade 1 win with a head victory over Mubtaahij in the Woodward. This year, he has finished first or second in four starts, including back-to-back victories this spring in the Grade 1 Santa Anita Handicap and the Grade 3 Pimlico Special Handicap. * * *
Grade 2 Mother Goose winner Unchained Melody will return from her three-length victory on July 1 in the Grade 1 Alabama on Saturday, August 19. A winner of three out of her four career starts, the 3-year-old Smart Strike filly will test out the classic 1 ¼-mile distance but looks to be heading in the right direction, said trainer Brian Lynch.
"Everything's good, she's going to work [Friday]," Lynch said. "That will be her final work, and everything's on schedule with her. She's been training good, and if we can knock out a big one like that it will make up for a lot."
The Mother Goose was the first foray into graded stakes competition for Unchained Melody, owned by Hidden Brook Farm and Hare Forest Farm. She entered that race following a two-length victory over Jamyson 'n Ginger in a 1 1/16-mile allowance optional claiming race on June 1 at Belmont Park.