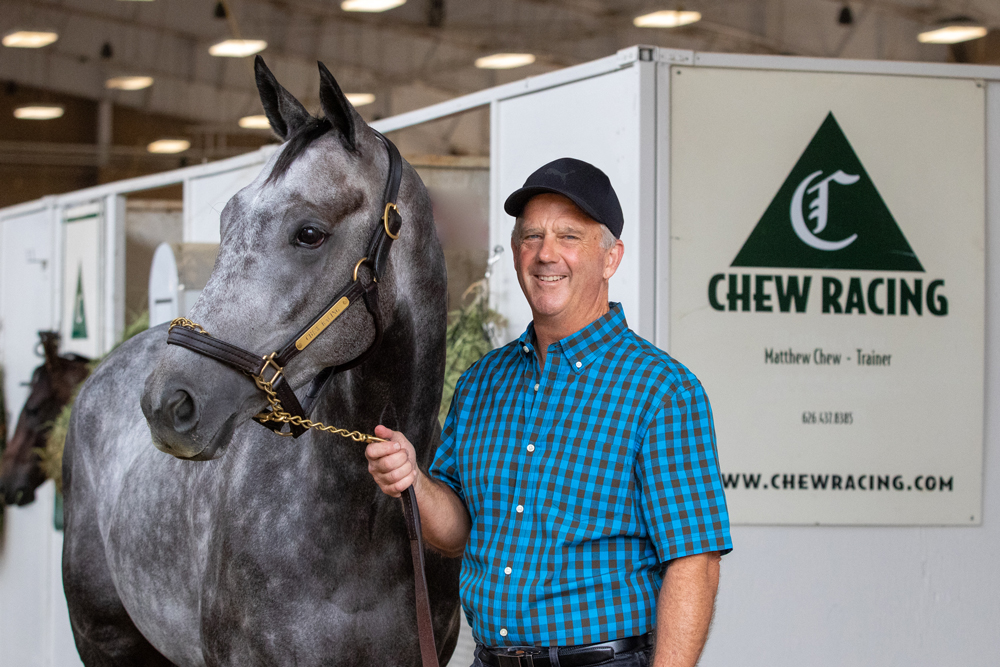 Tallien and Matt Chew © Zoe Metz Photography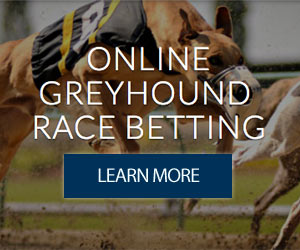 By Mac McBride
He didn't think he'd ever do it, but now he knows he will. Matt Chew, a man born and bred to be a racetracker, is going to walk away from the racetrack when the Del Mar meeting ends on Labor Day.
It's his choice and he's good with it.
"The last while it's just become clear to me that the time is right," says the 60-year-old trainer who has been getting up at 3:30 in the morning for more than 40 years to greet racehorses in barns up and down California. "I'm not fully sure what I'm going to do – the racetrack is so consuming you don't get a chance to think about anything else – but I've got some ideas and I'm willing to try new things."
To say the racetrack is in his blood is like saying that seals have slick on their backs. His father, Richard, was a horse trainer all his life. His grandfather, William, the same.
He grew up in Arcadia with Santa Anita as a backdrop. The siren's call was strong early on: he remembers climbing over the racetrack fence at age 15 when the track was closed and the horses were away just so he could walk among the barns and fantasize. When he'd finished high school he headed north to the Bay Area for his first job/love: assistant trainer to his father.
He watched, he learned, he experienced. Yup, this is it, he thought. And in 1982 he took out a license, hung out a shingle and started a life as a conditioner of Thoroughbreds.
That first year he had 90 starters, saw 18 of them win, 16 finish second and 10 run third while earning $172,032 in purses. Not bad for the new kid on the block, not bad at all. Almost four decades later he has sent 4,023 horses to the post, has seen 399 of them win, 417 finish second and 442 run third with purses totaling $9,374,621.
Those are good, steady numbers, the kind that reflect what Matt Chew is and has been over the years: one of the racetrack's solid guys. He's a backbone type. Folks like Chew – and those like him at any racetrack – are why those racetracks run. Without the "small" trainers – men and women handling four, eight, 12, 16 head – racing secretaries could not fill cards and the show would grind to a halt.
Right now, for instance, he has a dozen horses and they'll all go to other trainers and have good homes shortly. He wouldn't let it be any other way.
"The best part of this game is the mornings with the horses," Chew offers. "I love coming to the barn and seeing each one of them. They're not there trying to sell you anything; they don't have agendas. They're honest. How they present themselves is how they are."
He says he's liked nothing better than working with a horse who had some problems, getting them "right" and allowing them to run to their best ability. "That's especially rewarding," he notes.
He's had several exceptional horses along the way and one that's close to his heart is a filly named Singing Kitty that he claimed for $32,000, then guided through a campaign that saw her win a trio of stakes and almost $400,000. "You remember those kind," he says.
He's also had owners that have stuck with him through thick and thin. He mentions a Northern California lady named Lyn McDonald who raced horses with him for more than 30 years. He notes the Nicolas family – the father named Pierre and the son Matt – who have sent the Chews – both his father and himself – horses for 50 years. He was especially pleased when he won a straight maiden race on the turf earlier in the current meet for the son with an Irish-bred named Tallien.
Another who has stuck with him is a lady named Candace Coder-Chew. She was working for the Anderson Ranch near Sacramento where he used to send horses on occasion when he was training up north. They actually met over the phone, finally got to dating six months later, then wound up getting hitched. Ten days ago they celebrated 35 years of being married.
Candace, known as "Candy" to many, is an exceptional graphic artist and was offered a job at Santa Anita in 1993. It was an excellent opportunity and she and Matt decided – even though they were living and working in the Bay Area -- they had to go for it.
"It was too good a situation for her – and us – to pass up, so I dispersed a barnful of horses at Bay Meadows and returned 'home' to Santa Anita," Matt says. "Went from 25 head to rubbing one on my own."
The switch has worked out well for the Chews. Candace is now director of print and graphics for Santa Anita and Matt went from one horse to a regular rotation of 10 to 20 runners each year in Southern California.
And it appears their next steps will work out well, too.
Along the way the Chews acquired a four-bedroom home on 18 pristine acres alongside Hayden Lake in Idaho, just a couple of miles north of Coeur d'Alene. There's a barn going in for horses and plans for it to be Matt's headquarters for a special program he has in mind.
"I've seen how exceptional it can be for kids with special needs to interact with horses," he says. "For veterans suffering with PTSD, too. That's what I want to get involved in up there. I'll either join up with someone doing that or start my own program."
There should be no problem getting the horses. Candace, a passionate horsewoman, last year was elected president of the board of CARMA (California Retirement Management Account), a program that has facilitated the successful efforts in the state to retrain, rehome and retire thousands of racehorses.
So shortly, Matt is headed north and Candace will stay steady with her work at Santa Anita and CARMA. He'll have regular chances to head south and take in the old stomping ground. She'll have her chances to head north and escape to the woods. They think it will be a nice blend.
As he prepares to head off to a new life, Chew was asked what he considers his "best moment" during his years at the racetrack. His answer is a beautiful one and tells you all you need to know about the man he is.
Chew has always been the "go to" guy when racetracks have needed a horse for something outside of the usual. When a TV station asked for a horse for a news piece or a feature or a backdrop, he was there with one of his. If you needed to take some visitors on the backside to see how it works, you went to the Chew barn. He would readily stick one in a trailer and take it downtown somewhere to be part of a special event.
So it was around the time when they were filming the movie "Seabiscuit" at Santa Anita in the early 2000s and the Chew barn was involved in providing horses for the various scenes. He had one horse they nicknamed "Fred" who was one of "Seabiscuit's" stand-ins.
"'Fred' was bulletproof; wouldn't hurt a fly," Chew recalled. "We were working then with a group from Pasadena called Ability First that aided the developmentally disabled. They'd bring their people over and let them interact with the horses. Candy and I brought 'Fred' into the paddock one morning and when we did I saw this young boy – maybe 11 or 12 – looking at him real hard. So I went over and handed him the shank. He took it and started walking with the horse, talking to him and telling him how pretty he was and what a great horse he was; he was just having a total conversation with him.
"Candy meanwhile looks over and sees three adults in the middle of the walking ring and their jaws are dropped; they look almost horrified. She realizes that they are with the young boy and she begins to apologize. 'I'm sorry,' she says. 'My husband does these kind of things. We really should have asked permission before he gave him the horse.'
"One of women – it turned out to be the boy's mother – was sobbing. She finally told Candy that 'Austin doesn't talk.' It turned out her son was technically what they call non-verbal autistic. He had been through a traumatic incident several years back and since then had not said a word – until that day.
"So winning races is great, of course, but something that powerful is beyond special."
Del Mar – and racing in California – is going to miss Matt Chew. His kind of solid is the foundation that all good things are built on. But Matt Chew is off to a unique new life that is going to be full of new challenges and new rewards.
And racetrackers everywhere salute him for it.