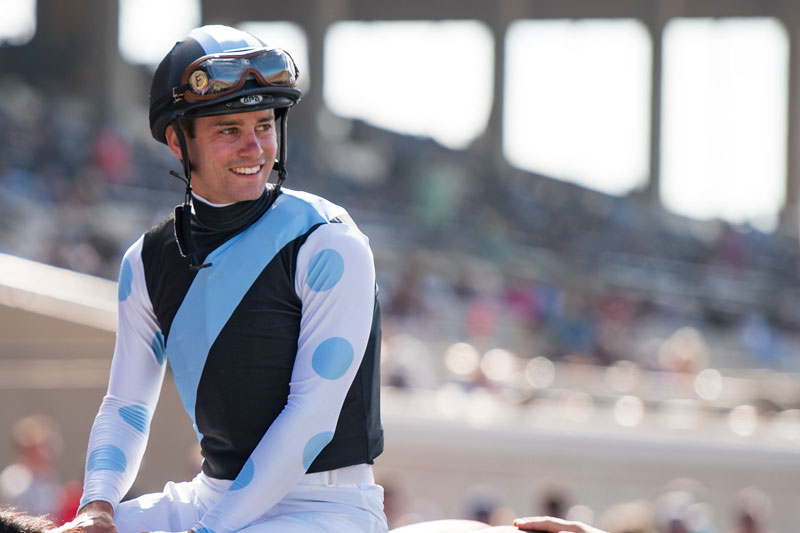 Flavien Prat © Del Mar Thoroughbred Club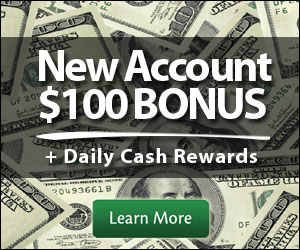 THIS YEAR THE JOCKEY TITLE MIGHT BE MORE THAN A MATCH RACE
In the past two summer seasons at Del Mar the jockey title has been a duel between Flavien Prat and Drayden Van Dyke with each rider prevailing once.
It could happen again.
But Derek Lawson, agent for defending champion Prat, has noted the emergence of some ambitious newcomers on the Southern California circuit and cautions against jumping to a two-man conclusion for the 2020 season that starts today.
"It will be extremely competitive," Lawson said by telephone Thursday. "I hope we (Prat) do well enough to win. But it's not a slam dunk for anybody."
Prat tied Rafael Bejarano for the 2016 summer title with 38 wins, took the 2017 outright over Bejarano with 35, relinquished the crown to Van Dyke in 2018 by a 42-37 margin and grabbed it back, 42-32, over Van Dyke a year ago.
Prat, a native of Melun, France, who turns 28 next month, has maintained his Southern California circuit dominance and high national profile following a 2019 season in which he won the Kentucky Derby, via disqualification, and a meet-leading 10 stakes victories during the Del Mar summer. He won the Santa Anita winter-spring riding championship with 90 wins over the course of the COVID-interrupted December-to-June season.
Through Thursday, Prat ranks seventh nationally with 97 wins from 372 starters (26 percent) and purse earnings of more than $5.3 million according to Equibase statistics.
To stay at the top this summer, however, Prat will have to fend off a foursome that has put up some impressive 2020 numbers as well. A rundown, with statistics in parenthesis and comments from Lawson.
Abel Cedillo—(No. 14 nationally, 61 wins from 419 starts, 15%, $3.6 million in purses). "He's proven that the move down from Northern California last year was the right one for him and his family and he's in a position to continue to make his mark."
Van Dyke – (No. 25, 35 for 212, 17 percent, $2.6 million). "He's always going to be at or near the top, especially here. He rides for Bob Baffert and will be on a lot of the very good 2-year-olds Bob breaks out here every year."
Umberto Rispoli – (No. 27, 50 for 269, 19 percent, $2.5 million). The Italian champion, 31, a veteran of racing in Europe, Japan and Hong Kong decided to come to America and race at Santa Anita last winter. "He's a very good rider, obviously, and he adds an international flavor - with Flavien from France and him from Italy - to the meet."
Juan Hernandez – (No. 31, 134 for 444, 30 percent, $2.2 million). "He follows the path of Cedillo last year and if you look at the statistics, he's No. 1 in the country for wins. So, obviously, he knows how to get the job done."
Forty-two wins secured the title the last two years. Lawson, prone to set goals, hopes to book Prat on 50 winners this summer. He realizes it's a high bar.
"It's a shorter season and there won't be fans in the stands," Lawson pointed out. "That's the same for everybody. The disadvantage for us could be going out of town, but I'm not looking to do it very often. It's going to take hard work, staying focused and some luck no matter what."
---
WHERE ARE THEY NOW? CHAMPIONS OF 2019
They were voted the top divisional performers for the 2019 summer season. A year later, here's an update.
CATALINA CRUISER – The Horse of the Meeting, Top Older Horse and Top Sprinter off victories in the San Diego Handicap and Pat O'Brien, the John Sadler trainee owned by Hronis Racing was retired to stud at Lane's End Farm in Kentucky. His stud fee is $20,000.
VASILIKA – A successful title defense in the John C. Mabee earned titles as Top Older Filly & Mare and Top Grass Horse for the standout mare trained by Hall of Famer Jerry Hollendorfer for owners All Schlaich Stables, Gato Racing and partners. Vasilika was sold for $1.5 million at the Keeneland November sale to Katsumi Yoshida as a brood mare.
CAMBIER PARC - Voted the Top 3-year-old filly off a Del Mar Oaks win after being shipped in from New York by Chad Brown, the daughter of Medaglia d'Oro followed up with a victory in the Queen Elizabeth II Stakes at Keeneland to end her 2019 season. Owned by OXO Equine, Cambier Park is back East and part of her trainer's turf contingent that is, in terms of depth, the U.S. racing equivalent of the Mindanao Trench. Brown has reportedly given her extra time to prepare for a 4-year-old debut.
NOLDE – The peak of the sophomore season for the son of Pioneerof the Nile trained by John Shirreffs for owner Jerome Moss came with a runner-up in the Oceanside and victory in the Grade II Del Mar Derby. The latter was decisive in his selection as Top 3-year-old. Shirreffs reports that Nolde is currently on a 60-day "vacation" at a California farm.
BAST – The Del Debutante was one of three Grade I stakes victories in 2019 by the Bob Baffert trainee for the Baoma Corporation and made her an obvious choice as Top 2-year-old filly. A soft tissue injury in February ended her racing career. She is in foal to Baffert's Triple Crown champion Justify.
NUCKY – Benefactor of unfortunate incidents involving the favorites, the son of Ghostzapper with Peter Miller-Rockingham Ranch connections won the Grade I Del Mar Futurity at odds of 35-1 to claim the Top 2-year-old title. However, three starts at Oaklawn Park in Arkansas last spring to kick off his 3-year-old campaign were all disappointments. "He's on a farm back east being given some time off," Miller said. "He didn't progress between his 2 and 3-year-old seasons and the Oaklawn thing didn't work out like we'd hoped."
---
SUPER PATRIOT TOPS FIELD OF SEVEN FOR SUNDAY'S OSUNITAS
Super Patriot, a 5-year-old Unusual Heat mare trained by Richard Baltas for Little Red Feather Racing and partners, has been tabbed the morning line favorite by oddsmaker John Lies for Sunday's $65,000 Osunitas Stakes. The one-mile event over the Jimmy Durante Turf Course for older fillies and mares drew a field of seven.
Super Patriot is entered off a victory in the $100,000 Fran's Valentine at Santa Anita on June 6. It was the sixth win in 28 career starts and boosted her lifetime earnings to $353,954.
"She fits the (race) conditions, even though she won a stake last out, because she's a California-bred," Baltas pointed out. "She's been training very well and hopefully she can get the job done.
The field from the rail: Super Patriot (Flavien Prat, 8-5); Don't Blame Judy (Abel Cedillo, 8-1); Ziarah (Frank Alvarado, 4-1); Meal Ticket (Tiago Pereira, 12-1); Desert Oasis (Victor Espinoza, 8-1); Cordiality (Umberto Rispoli, 6-1), and Sedamar (Brice Blanc, 7-2).
---
REMEMBERING TOM WHAYNE, A REGULAR OPENING DAY CELEBRITY
For Tom Whayne, opening day of the Del Mar summer season was special.
So special, in fact, that he was in attendance on track for the opening festivities 68 years in a row – from 1951-2019.
Whayne passed away June 27 of kidney failure, four months after moving from his longtime residence in Leucadia to an assisted living home in Shadow Ridge. He was 95.
Born September 2, 1924 in San Bernardino, Whayne served in World War II as a naval officer on a mine sweeper. After the war he embarked on an academic career highlighted by a Masters in education at UCLA that in turn led to a long tenure teaching drama at Oakland Tech High School in Oakland. His students included members of the Pointer Sisters singing family, actor Ted Lange (Love Boat) and baseball Hall of Famer Ricky Henderson.
With school out in the summer, Whayne and his wife Phyllis were free to come to Del Mar and start the string of opening days. "We'd always be there for opening day, but we never saw a (closing day) Futurity because we had to go back for meetings before the start of school," Whayne said in a 2015 interview.
One summer, Whayne got a job working in the backstretch cafeteria: "Not because I couldn't have gotten something on the front, but because I wanted to see what it was like back there as research for a novel. I wrote it and came close to getting it published, but never did."
Moving to the area after retiring from teaching, in 1990 Whayne worked as host/analyst for the weekly racing TV show "Del Mar Turf Weekly" which ran for three seasons. He also co-produced the first three California Cup presentations from Santa Anita with Ned Augustenborg and the two partnered on racing and Del Mar-related features for CNN and ESPN.
"Tom was very proud of his longevity at Del Mar," Augustenborg said. "In the year preceding his death, Tom did not let a day go by without reminding everyone concerned that he would be at Del Mar at least one more time."
Whayne was preceded in death by his wife, Ethyl, and their daughter Gloria.
---
'BEACH BOSS' CONTEST COULD LEAD TO BREEDERS' CUP TICKETS
Del Mar will be conducting a "Beach Boss" free handicapping contest every racing day this summer with a top prize of two VIP Breeders' Cup tickets for 2021 here.
It works like this: Anyone can sign up to undertake the task of handicapping and betting mythical money on one designated race each day. Participants get $100 of the imaginary cash for win, place or show wagering.
Ray Paulick, founder of the popular Paulick Report online racing site, will be making selections daily as a measuring stick for participants. On Saturdays, Paulick will take on a celebrity challenger as well in a matchup that can be accessed on social media. Tomorrow's challenger is track announcer Larry Collmus. The show starts at 11 a.m. and will be available on Facebook, Twitter and YouTube.
Access this link for further information: https://www.dmtc.com/contest/
---
CLOSERS – Del Mar-based jockeys Flavien Prat and Mike Smith will be riding at Keeneland tomorrow on the stakes-heavy card at the Lexington, Ky., track. In the Grade II $600,000 Toyota Blue Grass Stakes, a Kentucky Derby points prep, Smith will ride favored (3-1) Swiss Skydiver. Winner of the Santa Anita Oaks wire-to-wire on June 6, the Kenny McPeek-trained daughter of Daredevil will attempt to be the first filly to win the event as the first to attempt to do so since 1937. A victory would give Swiss Skydiver enough qualifying points for a Kentucky Derby start. She's already set for the Kentucky Oaks. Prat has the call on Tiesto (15-1) for Hall of Fame trainer Bill Mott … Selected works from 178 officially timed Friday morning: Donna Veloce (3f, :37.40), Fenway (4f, :47.80), Ambivalent (5f, 1:00.60), Giant Expectations (5f, 1:02.00), Midcourt (5f, 1:02.20), Tribalist (5f, 1:00.60). Notes from clocker Toby Turell: Fenway is a Bob Baffert-trained 2-year-old that was a $650,000 purchase; Ambivalent is a Doug O'Neill-trained 2-year-old that was a $500,000 purchase.