Haskell Invitational Handicap
The Resorts Casino & Hotel Haskell Invitational (formerly known as the Haskell Invitational Handicap) is an American Grade I race for thoroughbred horses. In 1968, the Board of Directors of Monmouth Park Racetrack in Oceanport, New Jersey honored its former President and Chairman Amory L. Haskell (1893-1966) with the Amory L. Haskell Handicap, a race for older horses. In 1981, the race was made an invitation-only stakes for 3-year-olds at 1 1/8 miles. It has been run under stakes conditions beginning with the 2006 running. In 2011, Resorts Casino Hotel in Atlantic City, New Jersey became an official sponsor of the race, as part of a five-year partnership between the casino and the racetrack.
A major race for three year olds in between the U.S. Triple Crown series and the Breeders' Cup, it currently offers a purse of $1,000,000 USD and awards one of the most prestigious trophies in U.S. thoroughbred racing in the Haskell Invitational Trophy. The last three winners of the Haskell Invitational have gone on to win their division championship honors. Lookin at Lucky, Rachel Alexandra and Big Brown have all won the Eclipse Award for American Champion Three Year-Old for their respective gender in 2009, 2010 and 2011.
Monmouth Park Graded Stakes Races
| Stakes Race | Grade | Purse |
| --- | --- | --- |
| Violet Stakes | III | $150,000 |
| Monmouth Stakes | III | $250,000 |
| Pegasus Stakes | III | $200,000 |
| Boiling Springs Stakes | III | $155,000 |
| Salvator Mile Stakes | III | $200,000 |
| United Nations Stakes | I | $765,000 |
| Jersey Shore Stakes | III | $150,000 |
| Matchmaker Stakes | III | $200,000 |
| Oceanport Stakes | III | $200,000 |
| Haskell Invitational Handicap | I | $1,000,000 |
| Monmouth Oaks | III | $150,000 |
| Philip H. Iselin Stakes | III | $250,000 |
| Molly Pitcher Stakes | II | $250,000 |
| Sapling Stakes | III | $150,000 |
| Cliff Hanger Stakes | III | $150,000 |
| Eatontown Stakes | III | $150,000 |
| Monmouth Cup Stakes | II | $300,000 |
| Red Bank Stakes | III | $200,000 |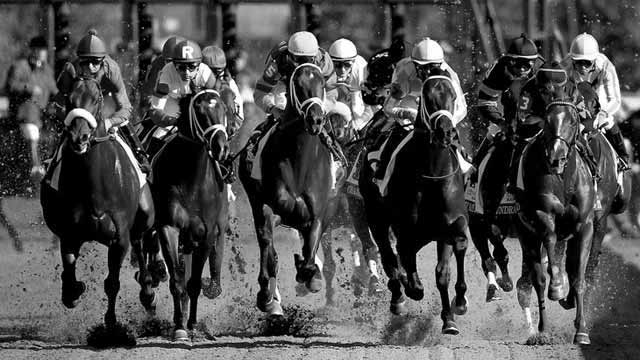 Bet Horse Racing with OTB