Philip H. Iselin Stakes
The Philip H. Iselin Stakes is an American Thoroughbred horse race held annually at Monmouth Park Racetrack in Oceanport, New Jersey. Open to horses three years of age and older, the race was first run in 1884. In 1891, New Jersey state legislators began a move to ban parimutuel betting and the race had to be moved to the Jerome Park Racetrack and the Morris Park Racetrack in The Bronx, New York. With a legislated permanent ban, after the 1893 running, the Monmouth Park Racetrack was shut down and the property sold. In 1946, Thoroughbred racing returned to a new Monmouth Park facility, spurred on by the burgeoning American economy after the end of World War II.
From inception until 1966 the race was known as the Monmouth Handicap then from 1967 through 1980 it was run as the Amory L. Haskell Handicap. In 1981 it reverted back to the Monmouth Handicap name then in 1986, it was given its present name to honor Philip H. Iselin, a founding shareholder and director of the Monmounth Park Racetrack who would serve as its President and Chairman of the Board of Directors.
Created in the 19th Century when most Thoroughbred horse races were run at much longer distances than they are today, the early Monmouth Handicaps were raced over a distance of 1-1/2 miles. Upon its revival in 1946 at the new Monmouth Park, the distance was set at 1-1/4 miles. From 1979 through 1995 it was run at 1-1/8 miles and in 1996 and 1997 at 1-1/16 miles when Formal Gold won the 1997 edition in track record time. In 1998, the race reverted to its present 1-1/8 mile format.
Monmouth Park Graded Stakes Races
| Stakes Race | Grade | Purse |
| --- | --- | --- |
| Violet Stakes | III | $150,000 |
| Monmouth Stakes | III | $250,000 |
| Pegasus Stakes | III | $200,000 |
| Boiling Springs Stakes | III | $155,000 |
| Salvator Mile Stakes | III | $200,000 |
| United Nations Stakes | I | $765,000 |
| Jersey Shore Stakes | III | $150,000 |
| Matchmaker Stakes | III | $200,000 |
| Oceanport Stakes | III | $200,000 |
| Haskell Invitational Handicap | I | $1,000,000 |
| Monmouth Oaks | III | $150,000 |
| Philip H. Iselin Stakes | III | $250,000 |
| Molly Pitcher Stakes | II | $250,000 |
| Sapling Stakes | III | $150,000 |
| Cliff Hanger Stakes | III | $150,000 |
| Eatontown Stakes | III | $150,000 |
| Monmouth Cup Stakes | II | $300,000 |
| Red Bank Stakes | III | $200,000 |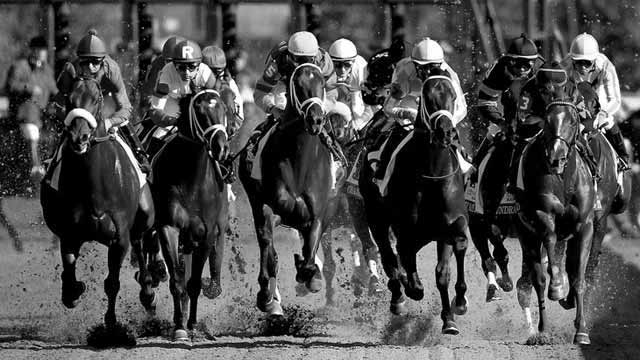 Bet Horse Racing with OTB