2020 Breeders' Cup Distaff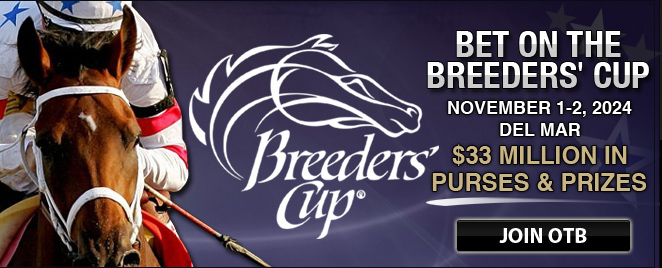 The Breeders' Cup Distaff brings together the best female dirt horses for a championship showdown at 1 1/8 miles on the main track. This race was won by the great Zenyatta at Santa Anita in 2008.
Breeders' Cup Distaff
| | | | |
| --- | --- | --- | --- |
| Purse: | $2,000,000 | Grade: | 1 |
| Distance: | 1 1/8 Miles | Age: | 3+ |
The Breeders' Cup Distaff (formerly Ladies Classic) is a Weight for Age Thoroughbred horse race for fillies and mares, 3 years old and up. Known as the Breeders' Cup Distaff from its inception in 1984 through 2007, it is held annually at a different racetrack in the United States or Canada as part of the Breeders' Cup thoroughbred championships.
---
Monomoy Girl Looking For Second Distaff Victory
Monomoy Girl - The 2018 Longines Distaff winner Monomoy Girl left the barn to gallop with regular exercise rider Fernando Espinoza at 7:50 a.m. and continues to impress as she attempts her second victory in the 1 1/8m race. She missed all of 2019 because of a series of minor setbacks, but has been perfect in three starts this year, including the La Troienne on the Kentucky Oaks undercard Sept. 4 in her most recent start.
"We considered the Spinster (Oct. 4) after the La Troienne, but we thought with the timing it worked out better to go straight into the Distaff given the fact that we have spaced her races out this year," trainer Brad Cox said. "It seems to be working well. We wanted to stay on the same pattern. She couldn't be doing any better."
Ce Ce - Bo Hirsch's Ce Ce got her first sampling of the main track at Keeneland at 6 o'clock Tuesday morning galloping under exercise rider Osman Cedeno for trainer Michael McCarthy. Ce Ce had galloped on the all-weather training track Monday morning following her arrival from her Southern California base.
Ce Ce, who will be ridden by John Velazquez in Saturday's $2 million Breeders' Cup Distaff drew post position one and is 12-1 on the morning line.
"I was hoping for somewhere between four and eight," McCarthy said. "Coming out of a seven-eighths race (the Derby City Distaff in which she finished fourth), I expect her to be forwardly placed just in behind the first flight."
2020 Breeders' Cup Distaff Field & Odds
Race 10 at Keeneland on Saturday, November 7 - Post 3:54 PM
Entry
Horse
ML Odds
Jockey
Trainer
1
Ce Ce
12-1
John Velazquez


124 Lbs

Michael McCarthy
2
Harvest Moon
12-1
Flavien Prat


121 Lbs

Simon Callaghan
3
Dunbar Road
12-1
Jose Ortiz


124 Lbs

Chad Brown
4
Horologist
8-1
Junior Alvarado


124 Lbs

William Mott
5
Swiss Skydiver
2-1
Robby Albarado


121 Lbs

Kenneth McPeek
6
Lady Kate
15-1
Tyler Gaffalione


124 Lbs

Eddie Kenneally
7
Point of Honor
30-1
Javier Castellano


124 Lbs

George Weaver
8
Valiance
12-1
Luis Saez


124 Lbs

Todd Pletcher
9
Ollie's Candy
10-1
Joel Rosario


124 Lbs

John Sadler
10
Monomoy Girl
8-5
Florent Geroux


124 Lbs

Brad Cox
Dunbar Road - Peter Brant's Dunbar Road, one day after arriving from New York, jogged a circuit of Keeneland's main track. The 2019 Alabama winner has pleased trainer Chad Brown with her preparation and will run in the Longines Distaff for the second consecutive year, having finished fifth of 11 in 2019 at Santa Anita. She enters off a lackluster performance in the Beldame at Belmont, finishing third by 5¼ lengths after going off as the even-money favorite.
"I don't know what happened in her last race," Brown said. "The only thing I can say-I know it's an unpopular excuse-but maybe she didn't like the track. She trained really, really well, but then just never picked her feet up in the race. I was so shocked by it. She's come back and trained brilliantly.
"She has a run at Keeneland before, last year, and I thought she ran quite well," Brown continued. "She had a tough, tight trip down inside and should have won the Spinster."
This season, Dunbar Road has raced just three times, winning the Shawnee Stakes at Churchill Downs in May before landing July's Delaware Handicap by 3 lengths.
Harvest Moon - Alice Bamford and Michael Tabor's Harvest Moon was back on the main track at 6 o'clock to gallop a day after jogging on Keeneland's all-weather training track.
Trained by Simon Callaghan, Harvest Moon drew post two for Saturday's Distaff and will be partnered as she has in her past four starts by Flavien Prat. Harvest Moon is 12-1 on the morning line.
"That should be OK," Callaghan said. "All the speed is to her outside and she should be able to get a good position."
Horologist - New Jersey-bred Horologist-owned by Medallion racing, Abbondanza racing, Parkland Thoroughbreds, There's A Chance Stable, Paradise Farms Corp. and David Staudacher-will attempt to give trainer Bill Mott a record-extending sixth win in the Longines Distaff on Saturday and drew post four of 10 in the race. Junior Alvarado will ride, seeking his first Breeders' Cup trophy.
"I feel really good about her," Alvarado said. "She ran a big race at Belmont. They were going pretty quick and I was worried, but when I asked her, she really kicked for me and came home fast. I know it's a good race, but I have a lot of confidence in her and I think she could be one of my best chances on Saturday."
Alvarado has five mounts in this weekend's Championship races.
Lady Kate - Lady Kate jogged and galloped at Churchill Downs and will train again there Wednesday prior to shipping to Keeneland. All Breeders' Cup entrants for Saturday's races must be at Keeneland by 10 a.m. Wednesday.
Lady Kate, fourth behind Distaff entrants Valiance and Ollie's Candy in Keeneland's Juddmonte Spinster Stakes Oct. 4, drew the No. 6 post position in the field of 10.
"We are happy with the post position," trainer Eddie Kenneally said. "It is a strong, deep race with very good fillies and mares and we are not under estimating any of them. This is the biggest race of her career and she is coming into it phenomenal. She couldn't be doing any better and she couldn't look any better."
Ollie's Candy - Paul and Karen Eggert's Ollie's Candy galloped 1 1/2m on the main track under Juan Leyva for trainer John Sadler. Rated as a 10-1 chance on the morning line for the Distaff, Ollie's Candy will break from post nine under Joel Rosario.
"The post is fine," Sadler said. "It is a little bit outside but I prefer it to being inside."
Fourth in the Distaff last year at Santa Anita, Ollie's Candy is winless in 2020 but has three runner-up finishes and two thirds from five starts that all came in Grade 1 races.
"It is tremendously frustrating being a head or neck from winning Grade 1s," Sadler said. "Her owner (Paul Eggert) has a saying that maybe she is saving her luck for the big day."
Ollie's Candy has raced at five tracks in 2020, most recently at Keeneland where she was second in the Juddmonte Spinster Oct. 4.
"I don't think she cares that much for the main track at Santa Anita," Sadler said. "She has run all over ... Oaklawn, Belmont, Keeneland ... and even though she hasn't won, I think her form is better and her speed figures are better."
Point of Honor - Eclipse Thoroughbred Partners and Stetson Racing LLC's Point of Honor galloped 1 3/8m over Keeneland's main track Tuesday morning in preparation for a start in the Distaff.
Despite finishing 1-2-3 in 10 of 11 career starts, including five Grade 1 placings, Point of Honor was rated at 30-1 following Monday's post position draw for the particularly deep Distaff field.
"She's shown up every time. Even though she's not winning, she hits the board," trainer George Weaver said. "You always see her face coming down the lane."
Weaver understands the imposing challenge the 4yo daughter of Curlin will face while meeting the likes of Monomoy Girl, the 8-5 morning line favorite who won the 2018 Distaff and is undefeated this year, and Swiss Skydiver, the 2020 Preakness winner who is rated at 2-1.
"They don't give these races away. They're championship races. You don't find easy spots," he said. "Throughout the year, you might find an easy one, but this is where everyone comes together, which makes it a special event."
Swiss Skydiver - Peter Callahan's Swiss Skydiver made her usual early appearance Tuesday morning with regular rider Robby Albarado on board and jogged once around before an easy 1 1/2m gallop.
The Daredevil filly has only made one start at Keeneland in her career when second in the Blue Grass to Art Collector in July, but she does hold a bit of a home-court advantage in the Distaff.
"She's stabled here a lot in her career, that bottom barn has been our base for a long time," trainer Kenny McPeek said. "She knows the routine of walking up the hill. Robby's getting on her all week. He wanted to, which I like. She's just doing pretty basic stuff."
Swiss Skydiver, who was second in the Kentucky Oaks, enters the Distaff off her victory against males in the Preakness Stakes, which was a very satisfying victory for McPeek.
"It was pretty awesome," McPeek said. "We stuck our necks out because we thought she deserved a chance. It was a tough call because we had to decide to go against straight 3-year-olds or go against older horses. We felt like the upside was there and she came through for us. It was very cool."
Valiance - The winner of Keeneland's Spinster on Oct. 4 got reacquainted with the track Tuesday morning after arriving Monday from trainer Todd Pletcher's Belmont Park base.
"I love the way she has been training," Pletcher said. "She was very enthusiastic this morning."
Valiance has won six of eight career starts by racing just behind the leaders in the early parts of the race.
"I think (the eight of 10) post position in the Distaff is fine," Pletcher said. "With a mile and an eighth race, you have time to get over and see how the race unfolds. What is important for her is to get in a good steady rhythm. There is enough pace in there, so I suspect she will be in the second tier."
Pre-Draw Notes
MONOMOY GIRL
With a win in the Ruffian Stakes (G2) July 11, Monomoy Girl proved she is ready to return to the highest levels of racing after an 18-month absence. Her two-length score at Belmont pushed her earnings to over $3 million, and the 5-year-old improved her career record to eleven wins from 13 starts.
She dominated 2018, finishing first in every race, including the Longines Kentucky Oaks (G1) and Longines Breeders' Cup Distaff (G1), culminating with the chestnut earning the Eclipse Award as champion 3-year-old filly. Her lone second that year came when she was disqualified and placed behind Midnight Bisou, a rival she has bested three times, in the Cotillion Stakes (G1) at Parx.
A case of colic and a pulled muscle forced Monomoy Girl to miss her 4-year-old campaign. In her absence, Midnight Bisou dominated the division, winning seven of eight starts, and was named champion older dirt female. Race fans are clamoring to have the two stars meet to determine the champion mare of 2020.
Sol Kumin is in the ownership group for both horses.
"You want them to race against each other at some point. It's good for racing, and obviously it will happen," he said. "The whole Midnight Bisou-Monomoy Girl thing is weird for me since I own both of them. It's rare to have two horses this good in the same division. Hopefully, they can both stay sound and eventually face each other."
Monomoy Girl gave trainer Brad Cox his first career Grade 1 win. He is pleased with how she is currently training.
"I'm not saying she's faster than she was," he said. "But, training on a daily basis, she's moving better. She's happier, and her works are better than they were at 3."
Jockey Florent Geroux, who has ridden the mare in 12 of her 13 starts, agrees.
"I think she's just as good now as she was at 3," he said. "She's been training nicely, and she's showing all the signs that she's the same filly she was in 2018."
Kumin purchased her for $100,000 and named her for an island off of Cape Cod. Her father, Tapizar, won the 2012 Breeders' Cup Dirt Mile (G1).
CE CE
Unraced as a 2-year-old and with only three starts as a 3-year-old, Ce Ce has proven herself worth the wait. After limbering up in an easy allowance-optional claiming win at Santa Anita in February to start her 4-year-old season, the filly reeled off back-to-back Grade 1 wins in the Beholder Mile at Santa Anita in March and the Apple Blossom Stakes at Oaklawn Park in April.
In both Grade 1 wins Ce Ce showed not just talent but heart. In the Beholder Mile she was caught wide through much of the race but drove through the stretch to defeat Hard Not to Love, already a Grade 1 winner, by more than three lengths. In the 1 1/16-mile Apple Blossom she drew the far outside post in the field of 14-a field that included nine other graded stakes winners, four of them Grade 1 winners. Waiting patiently as much as five lengths behind a scorching pace, Ce Ce went after the leaders as the field turned for home and took the celebrated race for 3-year-old fillies by a head.
After the dual Grade 1 wins, Ce Ce has continued to race at high levels, finishing third in both the Santa Maria Stakes (G2) and the Clement L. Hirsch Stakes (G1) and fourth in the Derby City Distaff Stakes presented by Derby City Gaming (G1).
Ce Ce debuted a winner at six furlongs to start her career and two starts later jumped right into stakes company, the one-mile Acorn Stakes (G1) at Belmont Park. Fourth in that race behind eventual multiple Grade 1 winner Guarana, Kentucky Oaks winner Serengeti Empress and Grade 2 winner Jeltrin, Ce Ce sat out the rest of her 3-year-old season with an injury.
Ce Ce typically settles back off the pace in the early part of her races, all of which have come on fast dirt tracks. In her nine starts through early September 2020 she has four wins, a second and thirds and earnings of $805,100.
Ce Ce was bred by her owner, Bo Hirsch, the son of the late legendary California Thoroughbred owner Clement L. Hirsch. With Ce Ce's wins in the Beholder Mile and Apple Blossom, the Hirsch family earned a racing rarity: owning three generations of Grade 1 winners. Bo Hirsch also bred and owned Ce Ce's dam, Miss Houdini, and Clement Hirsch owned Miss Houdini's dam and Ce Ce's granddam, Magical Maiden.
The nod to magic in Magical Maiden's name runs through the family. Miss Houdini is easy to connect with the renowned magician Harry Houdini, but Ce Ce is a clever puzzle. The name is a nickname for Cecelia, the name of Houdini's beloved mother.
Ce Ce is trained by Michael McCarthy, who has his own link to racing royalty; before going out on his own in 2014, he was lead assistant to seven-time Eclipse Award-winning trainer Todd Pletcher for more than 11 years.
DUNBAR ROAD
Purchased by White Birch Farm as a yearling for $350,000 at the 2017 Keeneland September sale, Dunbar Road didn't race until her 3-year-old season, but after just nine starts she has already won six races, half of them graded, and earned nearly $1 million.
After dominating in her debut by more than eight lengths at Gulfstream Park in March 2019, Dunbar Road jumped immediately to graded competition and finished second, beaten just half a length, in the Gulfstream Park Oaks (G2). The runner-up finish gave her 40 points toward the 2019 Longines Kentucky Oaks (G1), but the late start to her career left her without time to gain more points and she was shut out of the field.
A step back to allowance company at Belmont Park resulted in the first of three straight New York wins, the next two coming in the Mother Goose Stakes (G2) and the Alabama Stakes (G1).
Dunbar Road next faced her elders in the Juddmonte Spinster Stakes (G1) at Keeneland and was third, beaten just 1 1/4 lengths by eventual Longines Breeders' Cup Distaff (G1) winner Blue Prize (ARG). Again facing older fillies and mares, she was fifth in last year's Breeders' Cup Distaff, the final start of her 3-year-old season. She started her 4-year-old season six months later by winning the black type Shawnee Stakes at Churchill Downs in May and the Delaware Handicap (G2) at Delaware Park in July.
Competing only in races at a mile or longer on dirt, Dunbar Road has won on fast tracks and sloppy tracks. Patient and versatile, she is usually within a length or two of the early leaders, but has won racing wide and from well behind the pace.
White Birch Farm, the 2017 sale buyer, is an entity of the filly's owner, Peter Brant, chair and CEO of White Birch Paper Company, which operates mills in the US and Canada. Brant was away from racing for about 20 years before he returned in 2016 to campaign Sistercharlie (IRE), 2018 Eclipse Award-winning female turf champion and winner of that year's Breeders' Cup Maker's Mark Filly & Mare Turf (G1). Brant had won the Breeders' Cup Sprint (G1) in 1988 with his homebred multiple Grade 1 winner Gulch and he bred Gulch's son Thunder Gulch, winner of the 1995 Kentucky Derby (G1) and Belmont Stakes (G1).
Dunbar Road is named for the road in Palm Beach, Florida, where Brant maintains a home.
Dunbar Road is trained by Chad Brown, who was an assistant to Hall of Fame trainer Bobby Frankel before opening his own stable in 2007. Brown has won the Eclipse Award as leading trainer four years running, 2016 to 2019.
HARVEST MOON
Four days before the 2020 harvest moon lit up the night sky, a filly with the same name dazzled in a daytime performance in Santa Anita's Zenyatta Stakes (G2), a Breeders' Cup Challenge Series "Win and You're In" race for the Longines Distaff (G1). Stalking heavily favored Fighting Mad, a recent gate to wire Grade 1 winner, the lone 3-year-old in the field took charge turning for home to win by three-quarters of a length.
The Zenyatta was the fourth consecutive win for the bay filly and jockey Flavien Prat. This streak began one race after her career debut, a third-place effort in June. Before the Zenyatta, she took Del Mar's Torrey Pines Stakes (G3), where she also closed on the pacesetter, for a 1 1/4 margin of victory.
"She took her time to come to hand, but she's come a long way in a short period of time," trainer Simon Callaghan said.
Callaghan and co-owners Alice Bamford and Michael Tabor were connections of Harvest Moon's mother, Qaraaba, an English import who finished her racing career winning Santa Anita's Robert J. Frankel Stakes (G3).
"This filly means a lot because I trained the mother, which gives it a little extra sentiment," Callaghan said. "She's an exciting, big filly that we've been super patient with and it's great that she's coming in to doing what she's doing."
Bamford bred Harvest Moon in Kentucky.
"I'm absolutely thrilled today, completely over the moon for Harvest Moon! She's a homebred and she's just so deep in my heart and my family's heart," Bramford said. "We lost her mother this year, Qaraaba, who was a stunning, stunning filly, and each time I tell her, 'Harvest Moon, go and do it for your Mama.' And she has."
Harvest Moon's father, Uncle Mo, was named the Eclipse Award 2010 Champion 2-Year-Old Colt after winning the Breeders' Cup Juvenile (G1). Illness disrupted his sophomore season and led to an early retirement. He has been a leading sire since he began standing at Ashford Stud.
HOROLOGIST
Horologist dominated her first race, romping to a pacesetting, 20 3/4-length win over just 5 1/2 furlongs on the dirt at Monmouth Park. Trained then by the late New Jersey legend John Mazza, she next unsuccessfully tried turf racing, her only start on grass. Back on dirt, she placed in a couple of black type sprint stakes at Gulfstream Park in late 2018-early 2019, but she really hit her stride last spring as a 3-year-old when she stretched out to a mile or longer. From March to August she reeled off four straight wins, earning her first stakes win, the Smart N Classy, and capping the streak with her first graded win, the Monmouth Oaks (G3). Mazza tested her at Grade 1 level for her next start, when she finished third in the Cotillion Stakes at Parx Racing.
Transferred to California-based trainer Richard Baltas, Horologist returned to sprinting in the Lexus Raven Run (G2) at Keeneland, finishing well off the board. After a three-month break, she returned unsuccessfully in January 2020 in the La Canada Stakes (G3) at Santa Anita to begin her 4-year-old season. In March, she shipped back across the country to miss winning the black type Nellie Morse Stakes at Laurel Park by just a neck. After finishing ninth in the Apple Blossom Stakes (G1) at Oaklawn Park April 18 and an ill-fated run in the Santa Maria Stakes (G2) May 31, Horologist was transferred to Hall of Fame trainer Bill Mott. Back home in New Jersey for her next start, she returned to the winner's circle in the Molly Pitcher Stakes (G3) at Monmouth. Again seeking her first Grade 1 win, she next was third at Churchill Downs in the LaTroienne Stakes presented by Oak Grove Racing and Gaming behind six-time Grade 1 winner Monomoy Girl.
In all six of her wins from 18 starts, the versatile Horologist has either set the pace, pressured the pacesetter, or settled back two to three lengths behind the early leaders.
Cameron Beatty's There's A Chance Stable was the sole owner of Horologist for her first 11 races, all in Mazza's care. After the Cotillion Stakes, There's A Chance was joined by partners Parkland Thoroughbreds, named by Steve and Debbie Weston for the Florida town where they live; Medallion Racing, a partnership venture put together by Taylor Made Farm; and Abbondanza Racing LLC, a partnership whose name in Italian means abundance.
Horologist's name is a play on the names of her father and mother. Sired by Gemologist, Horologist is out of a mare named Cinderella Time. As a gemologist is one who specializes in the study of gemstones, a horologist is one who studies the measurement of time and timepieces.
VALIANCE
Valiance has proved heroic the second half of 2020, punctuating a three-win streak with a victory in the Juddmonte Spinster Stakes (G1) at Keeneland, securing an expenses-paid berth in the Longines Distaff (G1) through the Breeders' Cup Challenge Series. Upsetting Kentucky Oaks winner Shedaresthedevil, who set the pace, but tired for third, the stunning gray filly scored her first graded stakes victory and improved her record to six wins from eight career starts.
The 4-year-old is trained by Todd Pletcher and is owned by Eclipse Thoroughbred Partners, Martin Schwartz and China Horse Club.
"(I'm) just blown away," Aron Wellman of Eclipse Thoroughbred said. "It's been such an emotional year dealing with the craziest times that the world has seen. We're just so honored to win a race like this with such a regally bred filly."
Valiance is the daughter of leading sire Tapit. Her maternal grandfather is Empire Maker, winner of the 2003 Florida Derby (G1), Wood Memorial (G1) and Belmont Stakes (G1). Empire Maker also finished second in the Kentucky Derby (G1).
Valiance, who was bred in Kentucky, was purchased for $650,000.
Five of Valiance's first six races came on turf. Her seventh start, Monmouth's listed Eatontown Stakes, was moved from turf to dirt, and she won handily on a sloppy track. Pletcher thought he might have a dirt contender. The Spinster proved he was correct.
"It seemed like she had simply been training better on dirt than she ever did previously," Pletcher said. "When the Eatontown came off the turf at Monmouth and she ran ... it was very impressive the way she did that that day. The margin doesn't do justice to how easily she won that day. That's when we started thinking about taking a shot in a big one."
Pletcher has saddled eleven Breeders' Cup winners, including last year's Longines Breeders' Cup Classic (G1) champion Vino Rosso.
Recent Breeders' Cup Distaff Winners
| Year | Winner | Jockey | Trainer | Time |
| --- | --- | --- | --- | --- |
| 2020 | Monomoy Girl | Florent Geroux | Brad Cox | 1:47.84 |
| 2019 | Blue Prize | Joe Bravo | Ignacio Correas, IV | 1:50.50 |
| 2018 | Monomoy Girl | Florent Geroux | Brad Cox | 1:49.79 |
| 2017 | Forever Unbridled | John Velazquez | Dallas Stewart | 1:50.25 |
| 2016 | Beholder | Gary Stevens | Richard Mandella | 1:49.20 |
| 2015 | Stopchargingmaria | Javier Castellano | Todd Pletcher | 1:48.98 |
| 2014 | Untapable | Rosie Napravnik | Steve Asmussen | 1:48.68 |
| 2013 | Beholder | Gary Stevens | Richard Mandella | 1:47.77 |
| 2012 | Royal Delta | Mike E. Smith | MWilliam I. Mott | 1:48.80 |
| 2011 | Royal Delta | Jose Lezcano | William I. Mott | 1:50.78 |
| 2010 | Unrivaled Belle | Kent Desormeaux | William I. Mott | 1:50.04 |
| 2009 | Life Is Sweet | Garrett K. Gomez | John Shirreffs | 1:48.58 |
| 2008 | Zenyatta | Mike E. Smith | John Shirreffs | 1:46.85 |
---
| Breeders' Cup Race | Grade | Purse | Date |
| --- | --- | --- | --- |
| Breeders' Cup Juvenile Turf Sprint | II | $1,000,000 | November 6 |
| Breeders' Cup Juvenile Fillies Turf | I | $1,000,000 | November 6 |
| Breeders' Cup Juvenile Fillies | I | $2,000,000 | November 6 |
| Breeders' Cup Juvenile Turf | I | $1,000,000 | November 6 |
| Breeders' Cup Juvenile | I | $2,000,000 | November 6 |
| Breeders' Cup Filly & Mare Sprint | I | $1,000,000 | November 7 |
| Breeders' Cup Turf Sprint | I | $1,000,000 | November 7 |
| Breeders' Cup Dirt Mile | I | $1,000,000 | November 7 |
| Breeders' Cup Filly & Mare Turf | I | $2,000,000 | November 7 |
| Breeders' Cup Sprint | I | $2,000,000 | November 7 |
| Breeders' Cup Mile | I | $2,000,000 | November 7 |
| Breeders' Cup Distaff | I | $2,000,000 | November 7 |
| Breeders' Cup Turf | I | $4,000,000 | November 7 |
| Breeders' Cup Classic | I | $6,000,000 | November 7 |