2019 Breeders' Cup Sprint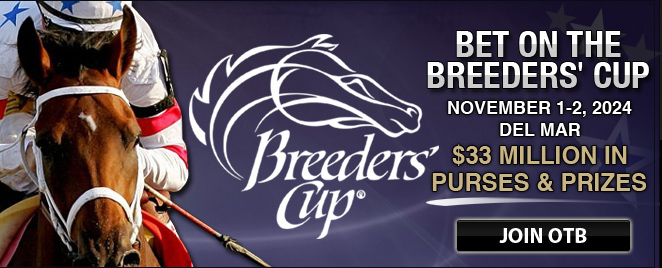 The world's fastest Thoroughbreds compete in the Sprint, sometimes achieving speeds nearing 40 M.P.H. in the stretch. This race is contested at three-quarters of a mile for male and female horses, 3-years-old and older.
Breeders' Cup Sprint
| | | | |
| --- | --- | --- | --- |
| Purse: | $1,500,000 | Grade: | 1 |
| Distance: | 6 Furlongs | Age: | 3+ |
2019 Breeders' Cup Sprint Recap - Mitole
William and Corinne Heiligbrodt's Mitole gunned down a loose-on-the-lead Shancelot in the final stages to win Saturday's $2 million Breeders' Cup Sprint (G1) at Santa Anita Park.
Breaking from post 4 at 9/5 odds under Ricardo Santana, Jr., Mitole flashed early speed but soon took back and allowed Shancelot to set fractions of :21.47 and :44.04. Mitole stalked from fourth while Matera Sky and Firenze Fire tracked the leader from second and third, respectively.
Mitole launched a bid three-wide through the far turn and began slowly reeling in the pacesetter. At the 1/16 pole, Mitole shot past Shancelot before drawing off to win. The Steve Asmussen trainee completed the 6-furlong sprint over the fast main track in a final time of 1:09.00. Shancelot stayed on for second over Whitmore and Engage.
Mitole returned $5.60 to win, $3.20 to place, and $2.60 to show. Shancelot brought back $3.20 to place and $2.80 to show, while Whitmore paid $5 to show.
2019 Breeders' Cup Sprint Odds & Entries
Race 8 at Santa Anita on Saturday, November 02 - Post 5:36 PM
Entry
Horse
ML Odds
Jockey
Trainer
1
Catalina Cruiser
4-1
Joel Rosario


126 Lbs

John Sadler
2
Hog Creek Hustle
20-1
Mike Smith


124 Lbs

Vickie Foley
3
Firenze Fire
12-1
Irad Ortiz, Jr.


126 Lbs

Jason Servis
4
Mitole
9-5
Ricardo Santana, Jr.


126 Lbs

Steven Asmussen
5
Engage
15-1
John Velazquez


126 Lbs

Steven Asmussen
6
Shancelot
4-1
Jose Ortiz


124 Lbs

Jorge Navarro
7
Whitmore
15-1
Flavien Prat


126 Lbs

Ron Moquett
8
Landeskog
12-1
Abel Cedillo


124 Lbs

Doug O'Neill
9
Imperial Hint
4-1
Javier Castellano


126 Lbs

Luis Carvajal, Jr.
10
Matera Sky
30-1
Yutaka Take


126 Lbs

Hideyuki Mori
Breeders' Cup Sprint Notes
Catalina Cruiser
Hronis Racing's multiple graded-stakes winner Catalina Cruiser galloped one ile under exercise rider David Pineda and visited the gate Tuesday as he prepares for his expected start in the $2 million Breeders' Cup Sprint, a race widely regarded as the pound-for-pound toughest on the two-day card.
Were it most years, Catalina Cruiser's resume of seven wins from eight starts would be good enough to vie for favoritism in the six-furlong Sprint. His lone career defeat came in last year's Breeders' Cup Dirt Mile and he is unbeaten in three starts this year with his most recent win coming in the seven-furlong Pat O'Brien Stakes on Aug. 24.
The brilliance of Grade 1 winners Mitole and Imperial Hint stand out in a quality-laden division but in looking at the numbers, trainer John Sadler is confident Catalina Cruiser is most capable of having his best day over the sprint distance.
"We think his speed figures are better going short," Sadler said. "He set a stakes record at Belmont this year (in the True North Stakes) so we think it's going to be a good set up for him. He's good on this track obviously and all the races are good. It's a tough race but he's a tough horse himself."
Engage
Woodford Racing's Steve Asmussen-trained Engage walked the shedrow of Barn 59 on Tuesday morning at Santa Anita Park. The last-out G2 Phoenix Stakes winner worked three furlongs in 37 3/5 on Monday.
Imperial Hint
Raymond Mamone's Imperial Hint got acquainted with the Santa Anita Tuesday morning while jogging the wrong way around the racetrack two days after arriving from New Jersey's Monmouth Park for a start in Saturday's Sprint.
Trainer Luis Carvajal Jr. was pleased the 6-year-old son of Imperialism drew post nine for the 10-horse Sprint at Monday's Breeders' Cup post position draw.
"I definitely didn't want to get in the same position that we got in Dubai, where we were on the inside," said Carvajal, whose trainee finished third in the March 30 Royal Shaheen at Meydan after becoming involved in a contested pace. "I wanted to be on the outside. That way he has a target in front of him and less traffic."
Imperial Hint will be making his third start in the Breeders' Cup Sprint, in which he finished second, a length behind Roy H., at Del Mar in 2017 and third last year behind repeat winner Roy H. at Churchill Downs.
"When he finished second at Del Mar he got the 10 post, all the way outside, and he ran a really good race," said Carvajal, who saddled Imperial Hint for victories in the Alfred G. Vanderbilt at Saratoga and the Vosburgh at Belmont in his only two starts since finishing third in Dubai.
Javier Castellano has the return mount aboard Imperial Hint.
Landeskog (Scratch)
Landeskog, runner-up in the Sept. 21 Gallant Bob Stakes at Parx, will scratch from the Sprint, trainer Doug O'Neill confirmed Tuesday morning.
"He's just telling us he's not 100 percent so it's a pretty easy move to make," O'Neill said. "It's nothing major. He tracked today but it was just an indication we had that he's not 100 percent so we're going to wait. From our standpoint, it's sad because it's such a big day or racing. But you don't run them unless they're 100 percent."
Landeskog was coming into the Sprint with a record of two wins from five starts. Ironically, the gelding's namesake Gabriel Landeskog, captain of the NHL's Colorado Avalanche, also is currently sidelined with a lower-body injury.
"I heard the namesake got hurt too," O'Neill said. "Maybe it's twin pain or something."
Mitole
One of the big stars of the upcoming Breeders' Cup weekend, Williand and Corinne Heiligbrodt's Mitole worked three furlongs at Santa Anita Park on Monday morning at just past 6:45 a.m. Angel Garcia was in the saddle for trainer Steve Asmussen. Assistant trainer Scott Blasi was on hand for the final breeze before a start as the expected favorite in the $2 million Breeders' Cup Sprint. He was timed in 37 2/5 for three furlongs.
"He just went an easy three-eighths," Blasi said. "He did it really well in 37 and two. He had his big work last week, so now we just try to keep him happy."
Shancelot
Crawford Farms Racing's Shancelot has taken it easy the past couple days for trainer Jorge Navarro. The son of Breeders' Cup Juvenile champ Shanghai Bobby left Barn 7 at just past 7 a.m. and jogged two laps of the Santa Anita main track before standing in the gate with his trainer observing.
"We are trying to keep him relaxed," Navarro said. "So today it was just jogging and standing him in the gate. He's really ready. There's lots of talk about Mitole, Mitole, Mitole-but this horse is ready."
Shancelot wowed speed figure aficionados with his third career start, a track record-setting run in the 6 1/2f Grade 2 Amsterdam Stakes at Saratoga on July 28. He has lost his two races since, though only by a head each. He enters off a third in the H. Allen Jerkens on Aug. 14 and a second in the Santa Anita Sprint Championship.
Navarro added: "I was just talking to my wife about how he gets knocked because of the Amsterdam and it being a fluke or one-hit wonder, but did Secretariat ever win by 31 lengths again? The Allen Jerkens wasn't a speed-favoring track and my jockey wanted to keep his spot on the track. He needed his jockey that day. Then last time out, we went up against Omaha Beach, the Derby favorite who Mike Smith chose over every good 3-year-old out there (in the Kentucky Derby), including Bob Baffert's. We all forget that. And once again, Shancelot needed his jockey to keep that position, but he let Mike Smith in there (up the inside rail)."
Recent Breeders Cup' Sprint Winners
| Year | Winner | Jockey | Trainer | Time |
| --- | --- | --- | --- | --- |
| 2019 | Mitole | Ricardo Santana, Jr. | Steven Asmussen | 1:09.00 |
| 2018 | Roy H | Paco Lopez | Peter Miller | 1:08.24 |
| 2017 | Roy H | Kent Desormeax | Peter Miller | 1:08.61 |
| 2016 | Drefong | Martin Garcia | Bob Baffert | 1:08.79 |
| 2015 | Runhappy | Edgar Prado | Maria Borell | 1:08.58 |
| 2014 | Work All Week | Florent Geroux | Roger Brueggemann | 1:08.28 |
| 2013 | Secret Circle | Martin Garcia | Bob Baffert | 1:08.73 |
| 2012 | Trinniberg | Willie Martinez | Shivananda Parbhoo | 1:07.98 |
| 2011 | Amazombie | Mike E. Smith | Bill Spawr | 1:09.17 |
| 2010 | Big Drama | Eibar Coa | David Fawkes | 1:09.05 |
What is the Breeders Cup' Sprint?
The Breeders' Cup Sprint (Grade 1) has been a popular racing event since the inauguration of Breeders' Cup in 1984. At present, this horse racing event carries a purse of $1.5 million and has proven a nightmare for handicappers among the Breeders' Cup races. As a champion event, the Breeders' Cup Sprint has become a platform where none can predict which horse is going to perform best on that very day. In fact, in seven of the Breeders' Cup Sprint races, the winner was decided by a distance of neck or less than that. So, from the result itself we can measure the level of competition in this race.
Browsing the history of Breeders' Cup Sprint, we find the 1990 session. The 1989 champion, Safely Kept, fought brilliantly head-to-head battle with English invader Dayjur - favorite of that race; inside the furlong pole, Dayjur suddenly took the command over but only forty yards away from the finishing line, he jumped the shadow of Belmont Park's grandstand and lost his action for a few moment. Those missteps were enough for the favorite, Safety Kept, to regain the lead and hold on for a neck victory.
In seven of the Breeders' Cup Sprint races, the winner was decided by a distance of neck or less than that.
On October 27, 2007, Midnight Lute, trained by multiple Kentucky Derby winner, Bob Baffert, scored the most important victory of his career when he won the six-furlong Breeders' Cup Sprint at Monmouth Park, ridden by Garrett Gomez. Coming from last to first, he won by 4 3/4 lengths over a sloppy track in a time of 1:09.18. In his next visit to Breeders' Cup Sprint at Santa Anita Park on October 25th, 2008, he finished the six-furlong dash in a final time of 1:07:08 on a fast track making Midnight Lute the first horse to ever repeat in the Breeders' Cup Sprint.
In the 2000, Kona Gold snatched the winning title while the Java Gold gelding placed third in 1998, second in 1999 and finally won the race at six. In fact the favorite takes it all in this race! We all are expecting the same trend of results in this year too. The 2009 winner of the Breeders' Cup Sprint, Dancing in Silks, shared 2009 California Horse of the Year honors with California Flag.
| Breeders' Cup Race | Grade | Purse | Date |
| --- | --- | --- | --- |
| Breeders' Cup Juvenile Turf Sprint | II | $1,000,000 | November 1 |
| Breeders' Cup Juvenile Fillies Turf | I | $1,000,000 | November 1 |
| Breeders' Cup Juvenile Fillies | I | $2,000,000 | November 1 |
| Breeders' Cup Juvenile Turf | I | $1,000,000 | November 1 |
| Breeders' Cup Juvenile | I | $2,000,000 | November 1 |
| Breeders' Cup Filly & Mare Sprint | I | $1,000,000 | November 2 |
| Breeders' Cup Turf Sprint | I | $1,000,000 | November 2 |
| Breeders' Cup Dirt Mile | I | $1,000,000 | November 2 |
| Breeders' Cup Filly & Mare Turf | I | $2,000,000 | November 2 |
| Breeders' Cup Sprint | I | $2,000,000 | November 2 |
| Breeders' Cup Mile | I | $2,000,000 | November 2 |
| Breeders' Cup Distaff | I | $2,000,000 | November 2 |
| Breeders' Cup Turf | I | $4,000,000 | November 2 |
| Breeders' Cup Classic | I | $6,000,000 | November 2 |