2023 Belmont Stakes Contenders & Odds

Belmont Stakes Press Release
Belmont Stakes Pre-Draw News
Preakness Stakes winner National Treasure breezes for Belmont Stakes
MAY 30 - Grade 1 Preakness-winner National Treasure worked a half-mile solo Tuesday over Big Sandy in preparation for the Grade 1, $1.5 million Belmont Stakes.
With Hall of Fame jockey John Velazquez up for Hall of Fame trainer Bob Baffert, the Quality Road colt was caught by NYRA clockers in a swift opening split of 23 and 2/5 seconds before hitting the wire through a half-mile in 50.62.
Velazquez had National Treasure under a hold down the lane before letting the talented bay gallop out strong.
2023 Belmont Stakes Entries & Odds
Entry
Horse
ML Odds
Jockey
Trainer

** Odds to be posted after draw **
"I wanted to jog him to the mile pole and start him galloping nice and easy. He got pretty strong on the bridle, so I kept him on the outside and Bob told me when I get to the four and a half, just drop him in and try to go 49," Velazquez said. "He picked it up pretty quick. I slowed him down as best I could and down the lane I just held him together. Going past the sixteenth pole, I gave him his head and let him gallop out."
National Treasure added blinkers for his score in the 1 3/16-mile Preakness on May 20 at Pimlico which he won in dramatic fashion after a prolonged stretch duel with Grade 1-winner Blazing Sevens to his outside.
Velazquez, who won the Belmont with Rags to Riches [2007] and Union Rags [2012], said that he expects National Treasure should be able to handle the stretch out to 12 furlongs in the "Test of the Champion" on June 10 at Belmont Park.
"After the races, he always gallops out really strong. I just hope that he can put it together," Velazquez said. "The whole thing with him is he gets a little spotty. We put blinkers on him and he's been pretty good with them. Hopefully, he stays like that."
Tom Ryan, managing partner of SF Racing, was on hand to watch the breeze and said Velazquez was pleased with the work.
"He said he was getting over the track very well which is most important," Ryan said. "He said that it's good to get a horse acclimated to the track."
National Treasure boasts a record of 6-2-1-2 for purse earnings in excess of $1.3 million. He has raced at four different tracks, graduating on debut in September at Del Mar before hitting the board in the Grade 1 American Pharoah [2nd] in October at Santa Anita, the Grade 1 Breeders' Cup Juvenile [3rd] in November at Keeneland, and the Grade 3 Sham [3rd] in January at Santa Anita. He entered the Preakness from a troubled fourth-place finish in the nine-furlong Grade 1 Santa Anita Derby in April.
Ryan said the well-traveled horse has gained valuable experience.
"He went from Del Mar to Santa Anita to Keeneland and back," Ryan said. "He got that early education we wanted him to get of getting on the plane and going to Kentucky with a big crowd. He's experienced that now on a number of days on Breeders' Cup to Preakness to this."
Ryan said a win in the Belmont Stakes would be significant as he looks to build National Treasure's resume as a potential stallion.
"I think it's very important," Ryan said. "A race like the Belmont is very important when pairing it with a race like the Preakness. I think a standalone Belmont definitely has value on a resume, but when you put two Classics on your resume, it's pretty hard to top isn't it?"
National Treasure is the first stakes winner produced from the Medaglia d'Oro mare Treasure and was purchased for $500,000 at the 2021 Fasig-Tipton Saratoga Select Yearling Sale.
2023 Belmont Stakes Probables
HORSE / JOCKEY / TRAINER / OWNER
Angel of Empire / Flavien Prat / Brad Cox / Albaugh Family Stables
Arcangelo / Javier Castellano / Jena Antonucci / Blue Rose Farm
Forte / Irad Ortiz, Jr. / Todd Pletcher / Repole Stable and St. Elias Stable
Hit Show / Manny Franco / Brad Cox / Gary and Mary West
Il Miracolo / Marcos Meneses / Antonio Sano / Alexandres
National Treasure / John Velazquez / Bob Baffert / SF Racing, Starlight Racing, Madaket Stables, Robert E. Masterson, Stonestreet Stables, Jay Schoenfarber, Waves Edge Capital, Catherine Donovan
Raise Cain / Junior Alvarado / Ben Colebrook / Andrew Warren & Rania Warren
Red Route One / Joel Rosario / Steve Asmussen / Winchell Thoroughbreds
Tapit Trice / Luis Saez / Todd Pletcher / Whisper Hill Farm and Gainesway Stable


Possible: Prove Worthy (Pletcher), Tapit Shoes (Cox)
Last Friday, Tapit Trice worked a half-mile in 49.04 seconds in his first move since finishing seventh in the Grade 1 Kentucky Derby on May 6 at Churchill Downs. Tapit Trice captured the Grade 2 Tampa Bay Derby and Grade 1 Blue Grass and entered as one of the favorites for the "Run for the Roses."
"Super breeze, big gallop out," Pletcher said following the work. "He seems to really like the main track here. I'm very, very happy with the way he's been training. He hasn't missed a beat since the Derby. He's settled in well. He's been galloping over the main track. He had a breeze last week and a more serious breeze today. It was a major piece of work today, we'll come back for a maintenance type breeze next week. We always thought the mile and a half would suit him."
Tapit Trice Preps for 2023 Belmont Stakes
MAY 30 - Whisper Hill Farm and Gainesway Stable's Grade 1 winner Tapit Trice recorded his penultimate piece of preparation for the Grade 1, $1.5 million Belmont Stakes on June 10, breezing five furlongs over the Belmont Park main track for Hall of Fame conditioner Todd Pletcher.
Under mostly sunny skies and temperatures in the 60s, Tapit Trice worked under exercise rider Fernando Rivera to the outside of stablemate Classic Catch [1:00.87] following the renovation break. He completed the five-furlong move in 1:00.22 over the fast main track before galloping out six furlongs in 1:12.60 and 1:25 flat for seven furlongs according to NYRA clockers.
Tapit Trice is by prolific sire Tapit, who has sired prior Belmont Stakes winners Tonalist [2014], Creator [2016], Tapwrit [2017], and Essential Quality [2021]. His graded stakes-placed dam Danzatrice is by Dunkirk - who Pletcher saddled to a runner-up finish in the 2009 Belmont Stakes.
Tapit Trice's pedigree along with his running style make him an ideal candidate for the Belmont Stakes' demanding 1 1/2-mile distance, according to Pletcher.
"Tapits have had a lot of success in the Belmont. He's out of a Dunkirk mare who I trained and ran second in the Belmont. From a pedigree standpoint, you would think he's capable," Pletcher said. "He's got that big, long galloping stride. I think the main thing is making sure that he gets into that comfortable rhythm and doesn't give himself too much to do early on. The Belmont is not necessarily a closer's race, but it seems like he's really coming up to it the right way."
Pletcher also has three other potential Belmont Stakes contestants in reigning Champion 2-Year-Old Forte, Grade 2 Louisiana Derby winner Kingsbarns - who finished 14th in the Kentucky Derby - and 10-furlong maiden winner Prove Worthy.
Forte and Kingsbarns were slated to breeze this morning with the former now scheduled to work Saturday at 8:45 a.m. over the Belmont main track.
Pletcher said he is not sure when Kingsbarns will work back.
"He's got a little bit of a bellyache today, so we weren't able to breeze him," Pletcher said.
Pletcher said Prove Worthy, who is stabled with his Churchill Downs division, remains possible for the Belmont.
National Treasure likely candidate for the 1.5 mile Belmont Stakes
MAY 21 - After a two-year absence from the Triple Crown series, trainer Bob Baffert, 70, returned to the Preakness with National Treasure, a well-regarded colt who had won just one of his five starts. With blinkers on the first time this season, National Treasure broke sharply. Hall of Fame jockey John Velazquez promptly put him on the lead and from there was able to dictate a slow pace. When Blazing Sevens, trained by two-time Preakness winner Chad Brown, put in a determined challenge in the stretch, National Treasure responded and won by a head.
The win enabled Baffert to move ahead of 19th century trainer R. Wyndham Walden for the most victories in the Middle Jewel of the Triple Crown. It was Baffert's record-extending 17th win in the Triple Crown series.
Baffert said that National Treasure and Sir Barton Stakes winner Arabian Lion would stay at Pimlico for a few more days this week and may go on to New York for races on the Belmont Stakes program on June 10. Though he did not rule out Arabian Lion, he said National Treasure was a more likely candidate for the 1 ½-mile Belmont Stakes field. Baffert said he did not want to send the colts back to his base at California and then ship back to New York.
The Preakness was National Treasure's third race of 2023 and Baffert said it was not demanding.
"They went so slow early, he had so much horse that he couldn't pull him up at the end he told me," Baffert said. "Arabian Lion, I'm not sure if he's up for the mile and a half, but he did run a big race yesterday. It could change. I have until tomorrow to make these calls. I could change my mind and send them back home on Tuesday. So long as they are eating well, which they are, and they came out of it well, I think I'll be keeping them here relaxed for a little bit and I don't have to ship them."
Baffert said that National Treasure has recovered from a quarter crack that might have impacted his training before the Santa Anita Derby. He said the slow-developing colt looks to have matured since that race.
"His last two works were pretty amazing. Really amazing," he said. "You could tell that the lights were going on. Johnny could tell the difference in him immediately. He could tell that he was figuring it out. Because he's lightly raced, he kept waiting for horses to come at him. He did that the right way because he had always been green and intimidated."
National Treasure wore blinkers in two of his three starts as a 2-year-old and Baffert decided to put them back on for the Preakness.
"Every trip he's had, he's always been stopping and going," Baffert said. "­­­­­­With the blinkers he just blew out of the gate and put himself in the race right away. He hadn't broke that way since he broke his maiden. I think the blinkers really helped him and he came out running."
In the stretch, National Treasure showed the grit that had been missing in previous races.
"When that horse came to him, he gutted it out," Baffert said.
Wait and See for Preakness Runner-up Blazing Sevens
MAY 21 - The first Preakness Stakes (G1) for John and Carla Capek brought plenty of excitement, but not the outcome they were hoping for.
The Capeks' Rodeo Creek Racing LLC's Blazing Sevens finished a head behind National Treasure in the 148th running of the second leg of the Triple Crown at Pimlico Race Course on Saturday, May 20.
"We thought he ran exceptionally well," John Capek said "It's tough to be a little bit short on the winning side of things, but we are pleased with his progress."
Trainer Chad Brown was attempting to win his third Preakness in the last seven years. He skipped the Kentucky Derby (G1) with Blazing Sevens, even though he had enough qualifying points for the race. He had used the same formula with Preakness winners Cloud Computing in 2017 and Early Voting last year.
"It was better for us to come to the Preakness and have a shot of winning than be in the middle of the pack in the Derby," John Capek said "The horse is making progress. Every race this year has been a better race than the previous one."
Blazing Sevens shipped back to New York early Sunday morning. Brown has not said what the colt's next race will be.
"We will talk to Chad and see what is best for the horse for his next race," John Capek said.
Asmussen Likes Mile and a Half for Red Route One
MAY 21 - Trainer Steve Asmussen saw enough in Red Route One's Preakness (G1) fourth-place finish that after the race he said the Belmont Stakes (G1) is the obvious target. Jockey Joel Rosario was forced to have Red Route One closer to the lead than is his want, given how John Velazquez was able to back down the pace to a crawl up the backstretch
"This race fell apart for a lot of reasons that nobody will be able to put their finger on," the Hall of Fame trainer said. "I don't expect that to be the way things are going forward. We just regroup and get better at it.
"You're not guaranteed to get pace in the Belmont. You win races because of pace, and you benefit from it periodically. And then other times you don't. This would have been the latter for him," he added. "He is nearing $700,000 in earnings. He's kept very good company his whole career and was probably beaten [4 ¾] lengths in the Preakness in a race I don't think set up ideally for him. Does he beat them under different circumstances? Who knows? But I do like the opportunity to run him a mile and a half."
Actually, Red Route One has earned $732,525 off of a 2-2-1 record in 10 starts. He earned a free roll in the Preakness by virtue of winning Oaklawn Park's Bath House Row Stakes.
Forte Preps for 2023 Belmont Stakes
MAY 21 - Forte (Repole Stable and St. Elias Stables) breezed Sunday, May 21 over the Belmont Park dirt training track in his first workout since scratching on the morning of the May 6 Grade 1 Kentucky Derby as the morning-line favorite.
Trained by Hall of Famer Todd Pletcher and piloted in the breeze by Irad Ortiz, Jr., the son of Violence worked in company with New York-bred stakes winner Let Her Inspire U, covering a half-mile over the muddy going in 50.31 seconds.
Entries for the 155th Belmont Stakes will be taken on Tuesday, June 6. Among the other possible starters are Grade 3 Peter Pan-winner Arcangelo [Jena Antonucci], Sir Barton-winner Arabian Lion [Bob Baffert]; Grade 1 Preakness-winner National Treasure [Baffert], Grade 3 Gotham-winner Raise Cain [Ben Colebrook]; multiple graded stakes-placed Red Route One [Steve Asmussen]; and Grade 2 Risen Star runner-up Sun Thunder [Ken McPeek].
"It looked super. I'm really pleased with the way he went. He was well in hand throughout and galloped out nicely," Pletcher said. "We were playing it by ear with the weather, but the training track dried out nicely."
Ortiz, Jr. won the Grade 3 Gallorette aboard Whitebeam on Saturday's Preakness card in Baltimore and guided Blazing Sevens to a close runner-up finish in the featured Grade 1 event won by National Treasure.
"Irad is a dedicated young man," Pletcher said. "He drove back last night so he could be here this morning. He had a huge smile on his face afterwards and his comment to me was - 'this made my day.'"
Forte entered the Kentucky Derby at the top of the leaderboard with 190 points that he accrued for victories in November at Keeneland in the Grade 1 Breeders' Cup Juvenile and at Gulfstream Park in the Grade 2 Fountain of Youth and Grade 1 Florida Derby this spring. He boasts a record of 7-6-0-0 with total purse earnings in excess of $2.4 million.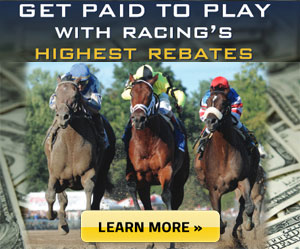 Pursuant to HISA Rule 2241(a), Forte was placed on a mandatory 14-day veterinary list after being scratched from the Derby due to a bruised right front foot. In order to be successfully removed from the list he will have to breeze in front of a regulatory veterinarian and produce a negative blood sample result following that work which generally takes five days to be returned.
Pletcher said the required breeze for the vet could take place on Friday.
"He's in excellent condition and doing well here at Belmont," Pletcher said. "We got that first breeze in that we were looking for and he's scheduled to come back and breeze again on Friday if conditions permit. We'll come back with a five-furlong move on the main track and continue on towards the Belmont."
Pletcher said he was disappointed not to be able to showcase Forte's talents in the Derby.
"I feel bad for the connections and for the horse not getting the opportunity to run in the Derby, but the timing was bad and we just have to turn the page and move on," Pletcher said. "I'm just thankful the horse is doing great and we're looking forward to running in the Belmont."
Pletcher could have as many as four Belmont Stakes starters, including his Derby runners Tapit Trice [7th] for owners Whisper Hill Farm and Gainesway Stable, and Spendthrift Farm's Kingsbarns [14th]. Also under consideration is Repole Stable and St. Elias Stable's Prove Worthy, a Curlin chestnut who graduated at third asking traveling 10-furlongs on May 2 at Churchill Downs.
Tapit Trice worked a half-mile in 49.04 Friday over Big Sandy.
"Tapit Trice breezed very well on Friday and Kingsbarns will probably breeze this Friday," Pletcher said.
Prove Worthy, out of the graded-stakes placed First Samurai mare Endless Chatter, was purchased for $325,000 at the Keeneland September Yearling Sale.
"He handled the stretch out to a mile and a quarter really well," Pletcher said. "He's one we always thought would continue to improve as he matures and the distance is something he would be capable of getting. He's light on experience, so we'll play it by ear and see how the field is shaping up before making any decisions there."
The Belmont Stakes headlines the three-day Belmont Stakes Racing Festival that features a total of 16 stakes events from Thursday, June 8 through Saturday, June 10.
OffTrackBetting.com - US Legal Belmont Stakes OTB is a quick and easy way to bet the Belmont Stakes from home. Available to customers across the United States, OTB allows horseplayers to watch and wager on racing from tracks around the world at any time form their desktop computers or mobile phone.
Arcangelo still on fence for 2023 Belmont Stakes
MAY 21 - Blue Rose Farm's Arcangelo, winner of the Grade 3 Peter Pan on May 13 at Belmont Park, is still undecided for the Grade 1, $1.5 million Belmont Stakes presented by NYRA Bets on June 10 according to trainer Jena Antonucci, who said the son of Arrogate continues to thrive at Belmont after his strong head victory over Bishops Bay.
"He's doing super and he's happy - all good stuff," said Antonucci.
Should Arcangelo's connections decide to run the colt in the prestigious "Test of the Champion," they would need to supplement him to the race for $50,000 as he is not nominated to the Triple Crown. Antonucci said she would like to see Arcangelo train a bit more before making a decision on his next start.
"We haven't decided yet," said Antonucci. "We'll see how he trains up and how he breezes and we'll make a decision. I would need to see his normal, naughty behavior."
Antonucci added that Arcangelo typically breezes about 10 days out from his intended races.
Use the links below to learn more about the third leg of the `Triple Crown of Horse Racing'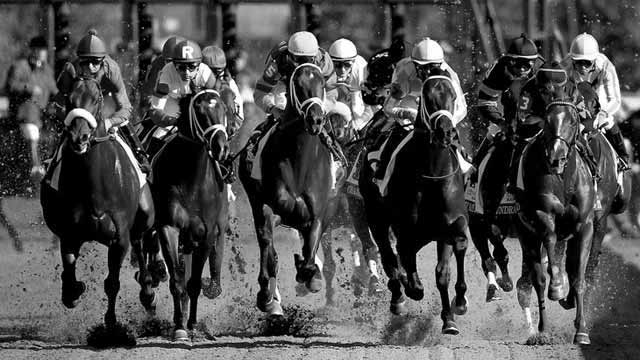 Bet Belmont Stakes with OTB