Belmont Stakes Traditions

The 155th running of the $1,500,000 Belmont Stakes (Grade I), is the final leg of the Triple Crown and is set for Saturday, June 10, 2023 at historic Belmont Park in Elmont, New York.
The Belmont Stakes, first run in 1867, is the oldest of the Triple Crown events, and one of the oldest stakes races in North America. Like the other Triple Crown races, there are several long running traditions associated with the Belmont Stakes.
Belmont Stakes Song - New York, New York
Through 1996, the post parade song was "Sidewalks of New York". From 1997 to 2009, the audience was invited to sing the "Theme from New York, New York" following the call to the post. In 2010, the song was changed to a solo version of Jay-Z's "Empire State of Mind" before reverting back to "Theme from New York, New York" for 2011 through the present. This tradition is similar to the singing of the state song at the post parades of the first two Triple Crown races: "My Old Kentucky Home" at the Kentucky Derby and "Maryland, My Maryland" at the Preakness Stakes.
---
Belmont Stakes Trophy - August Belmont Memorial Cup
The August Belmont Memorial Cup is a silver bowl and cover made by Tiffany & Co. The figure of 1869 Belmont winner Fenian sits atop the cover, and the bowl is supported by the figures of Herod, Eclipse and Matchem - the three horses who represent the respective grandsons of the three foundation sires of thoroughbreds: the Byerly Turk, the Darley Arabian and the Godolphin Barb. Of these, the lineage of Eclipse is predominant in the modern thoroughbred. The trophy was presented by the Belmont family as a perpetual award for the Belmont Stakes in 1926. The winning owner may keep the trophy for a year until the next Belmont winner is crowned. The winning owner, trainer, and jockey also receive a silver miniature of the August Belmont Memorial Cup.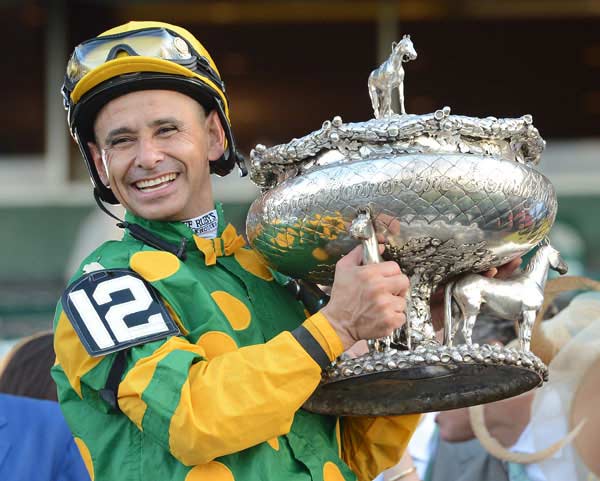 ---
White Carnation Blanket
White carnations represent love and luck, and they are the traditional flower of the Belmont Stakes. It takes about 700 carnations to create the 40-pound blanket which is draped over the winner. NYRA florist Tony Green and his team glue each flower in staggered rows to seven yards of green velvet cloth, folded and sewn to give it the heft to shape and support the carnations. It takes Green about five hours to make the blanket on race day. He also makes one for the Secretariat statue in Belmont's paddock.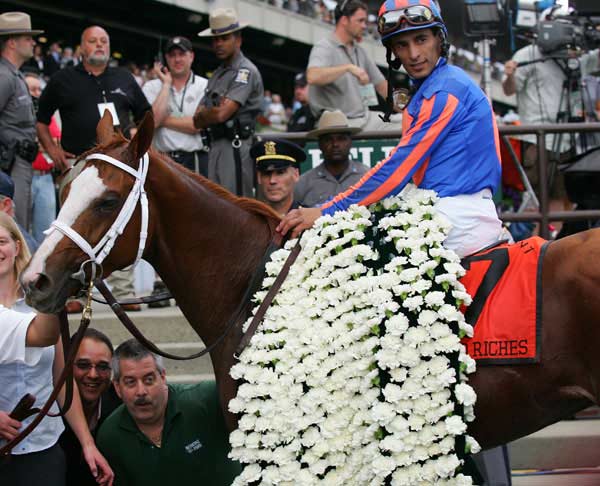 ---
Official Drink - The Belmont Jewel
In past years, the official drink has been the Belmont Breeze, but for reasons unknown it was converted to the Jewel in 2011. The two are both bourbon cocktails, though the Breeze features orange and cranberry juices, plus a splash of sherry.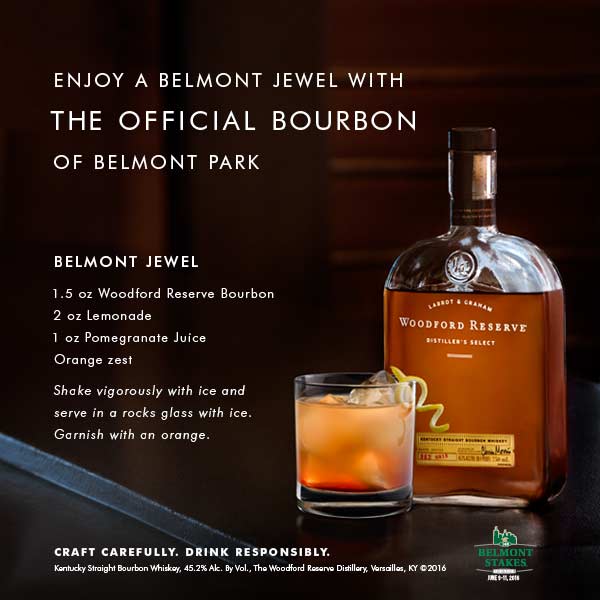 Use the links below to learn more about the third leg of the `Triple Crown of Horse Racing'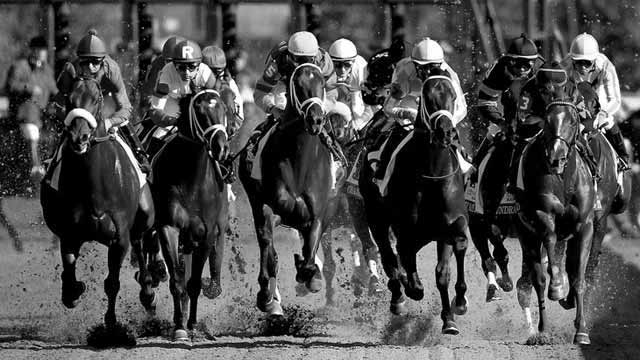 Bet Belmont Stakes with OTB