HANDICAPPING THE BELMONT STAKES

Handicapping the Belmont Stakes is a referendum on the first two legs of the Triple Crown, with a hefty dose of pedigree analysis to find horses who can stay the 1 1/2-mile trip. There are several concepts unique to the race that have to be taken into account when handicapping the third leg of horse racing's Triple Crown. Obviously these alone won't get the job done, and particularly since the field won't be set until the week before the race. That notwithstanding, once the field is announced it's important to evaluate all of the entries not only as you would any other race but with the following concepts in mind:
Pedigree
Breeding is crucial in thoroughbred racing because it is where horses get their tendencies and their capabilities from. It doesn't always work out this way, but as a general rule if the sire of a horse had the ability to run long distances then the horse should be able to handle it as well. What you want to look for, then, is horses that are descended from distance horses. Without spending a lifetime getting to know every sire out there there are a few shortcuts you can take. The sire, grandsire, and the damsire - sire of the horse's mother - for each horse are all listed in the past performances in the race program.
First, look to see if any of those three horses are past Belmont winners. If a horse in the past has won the Belmont there is a good chance the horse can handle the distance. If not, have any won a Triple Crown race? That means that they were able to beat the best three year olds of their time over long distances with high stakes on the line, so they are very classy horses. That's not as good as being a Belmont winner, but it is much better than nothing.
Next, are any of those horses a winner of a major race run at at least a mile and a quarter other than the Triple Crown? That would include races like the Breeders' Cup Classic, the Dubai World Cup, and a handful of others. Basically you are looking for proof that the horse is descended from runners that have proven to be not just good but exceptional, and that they have proven it over longer distances.
If none of those are the case then you finally want to check and see if the sires were horses that ran not on dirt but turf, but who ran major races at bigger distances on that surface. Turf horses tend to have a bit more stamina than dirt horses, so that can be an indicator of some ability to run distance. It's not ideal, but it will do.
A horse that doesn't possess any of these criteria isn't necessarily unable to handle the distance, but you need to find another way to prove he can. What you really don't want to see when you look there is a horse that is descended from very good sprinters. If one or more of the sires listed won the Breeders' Cup Sprint or other major sprints, for example, then you have a problem - or rather the horse does.
Longest Previous Race Run By The Horse
Almost no horse in the Belmont Stakes has run as far as a mile and a half before, so the best you can do is look back at the furthest they have previously run. You don't want to focus on results because that is not dependent on the distance as much as it is on the horses they were running against. Instead, what you want to focus on is how well they were running at the end of their three longest races. If they were gaining ground and running great then they probably had a lot left in the tank and could have handled more distance. If they were just holding ground or losing it, though, then they could struggle with extra distance.
What you want to look at is their position in the last two places listed in the program and at the wire. If they were gaining ground at the end - say they were 5th then 3rd then second, or they were first by one length, then three, then six at the wire - and they did that consistently over all three races then they can probably handle the distance. If they weren't able to gain any positions late, or if they just maintained their position but lost ground on the horse in front of them, then they were probably not feeling great later on, and the extra distance isn't going to help them.
Horse's Overall performance
If as a bettor you still don't have a sense of a thoroughbred's capabilities after the first two steps then you can resort to getting an overall sense of the horse's performance. Start by breaking the races the horse has run in the past into three basic groups - races of less than a mile, races from a mile to a mile and an eighth, and longer races.
Once you have done look at how they have performed in each group. Have they been unbeatable at shorter distances but had less success as the races stretched out, or have the y been generally consistent, or even better as things got longer? Do they gain more ground at the end of shorter races or longer ones? What you are looking for is an sign you can find that a horse prefers to run longer, or that his results have generally been stronger the longer he has run. This is more art than science at this point, but when a horse is being asked to do something he has never been asked to do before it comes down to a lot of guesswork anyway.
Belmont Stakes Weather and Track Condition
As anyone who watched the 2013 Kentucky Derby can attest, weather can be crucial to the outcome of a race. As a species, horses are very sensitive to the conditions in which they run and the surfaces they run on. On balance, most owners and trainers try to avoid racing a promising young horse in inclement weather or on a sloppy track. If the weather at a racetrack becomes particularly bad you'll see a number of `late scratches' for this reason. A Triple Crown race like the Belmont is a different matter and unless a horse's connections have a reason to fear for his safety due to the elements or track conditions they usually makes the start.
If there is a chance for bad weather and/or an off track it's essential to consider that when handicapping the race. One good measure of a horse's ability in this type of race can be found with a quick look at his past performances. If a young horse has *any* experience on a muddy or sloppy track that's a good indication that his connections have confidence in his abilities in these circumstances. Most promising three year olds are brought along cautiously, and had there been a concern about the ability to perform in substandard conditions it's unlikely they would have competed in it in the first place.
Another predictive component of a horse's ability to run on a less than perfect track is past experience on turf and, to a lesser extent, synthetic surfaces. Turf is more yielding than dirt, so there are some similarities between it and a muddy track. In any case, experience on any surface other than dirt is a positive as it indicates an ability to adapt and perform on a variety of track types.
Use the links below to learn more about the third leg of the `Triple Crown of Horse Racing'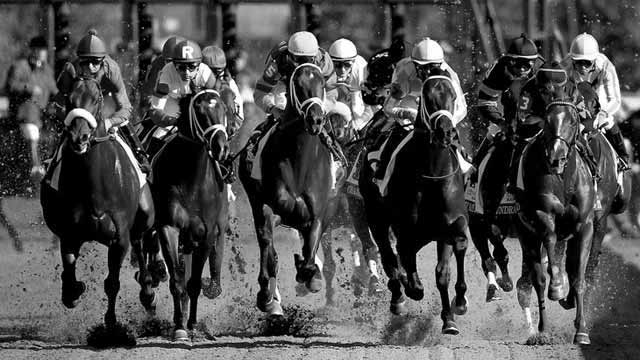 Bet Belmont Stakes with OTB
OTB Deposit Options

Click to learn more about OffTrackBetting.com deposit options for betting horse racing & greyhound racing online.