Belmont Stakes Song Lyrics - New York, New York

Belmont Stakes Song Lyrics
Like the other Triple Crown races, there are several long running traditions associated with the Belmont Stakes. Much in the same way that the Kentucky Derby is famous for the singing of `My Old Kentucky Home' before the race, the Belmont Park crowd joins in the singing of "New York, New York."
Frank Sinatra is associated with this wonderful song and it has been adopted by the Belmont Stakes and is a tradition to sing before the racing begins. "Theme from New York, New York" (or just "New York, New York") is the theme song from the 1977 Martin Scorsese film New York, New York. It has music by John Kander and lyrics by Fred Ebb, and is performed in the film by Liza Minnelli. Two years later, the song was more famously recorded by Frank Sinatra, and has become closely associated with that singer.
New York, New York
Start spreadin' the news,
I'm leaving today,
I wanna be a part of it
New York, New York.

These vagabond shoes
are longing to stray,
And step around the heart of it
New York, New York.

I wanna wake up in the
city that doesn't sleep
to find I'm king of the hill,
top of the heap.

My little town blues
are melting away,
I'll make a brand new start of it
in old New York.

If I can make it there,
I'd make it anywhere,
It's up to you,
New York, New York.

Use the links below to learn more about the third leg of the `Triple Crown of Horse Racing'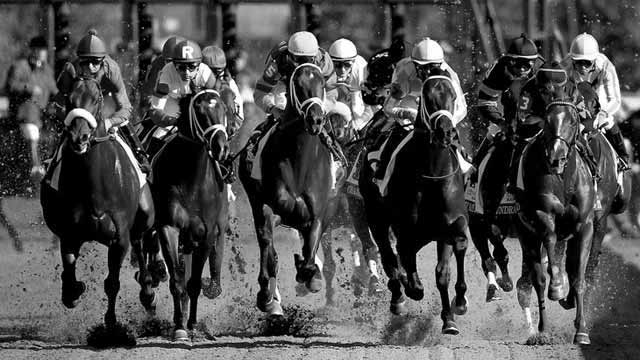 Bet Belmont Stakes with OTB