Champagne Stakes
The Champagne Stakes is an American Grade I Thoroughbred horse race for two-year-old horses. The race is run at a distance of one mile on the dirt at Belmont Park in October each year. It is nested exclusively by colts. The race is currently part of the Breeders' Cup Challenge series. The winner will automatically qualify for the Breeders' Cup Juvenile.
The race was first run in 1867, and it is the oldest race of its kind in the United States. It was given the same name as the British Champagne Stakes which has been run annually since 1823 at the Doncaster Racecourse in South Yorkshire, England. There was no Champagne Stakes run from 1910 through 1913, due to a legislated ban by the State of New York on parimutuel wagering, and no race was held in 1956.
Notable past winners who have gone on to success as three-year-olds or older include U.S. Triple Crown champions Seattle Slew, and Count Fleet and others such as Ben Brush, Colin, Sarazen, Alsab, Grey Lag, Buckpasser, Riva Ridge, Foolish Pleasure, Alydar, Spectacular Bid, and Easy Goer, all of whom are now in the National Museum of Racing and Hall of Fame.
The 1880 winner was Lady Rosebery, a horse owned by August Belmont, Sr. and named to honor England's Hannah Primrose, Countess of Rosebery whose family was prominent in British racing. Similarly, the 1950 winner was Uncle Miltie, a horse given the nickname of the famous comedian and New York City native, Milton Berle.
The inaugural running of the Champagne Stakes took place in 1867 at Jerome Park Racetrack prior where it remained through 1889. Shifted to the Morris Park Racetrack facility, it was held there through 1904. Moved to its present home at Belmont Park for the 1905 racing season, it was run at the Aqueduct Racetrack in 1959, from 1963 to 1967, and again in 1984.
Belmont Park Graded Stakes Races
| Stakes Race | Grade | Purse |
| --- | --- | --- |
| Westchester Handicap | III | $150,000 |
| Beaugay Stakes | III | $150,000 |
| Fort Marcy Stakes | III | $100,000 |
| Peter Pan Stakes | II | $200,000 |
| Sheepshead Bay Stakes | II | $250,000 |
| Metropolitan Handicap | I | $750,000 |
| Sands Point Stakes | II | $200,000 |
| Acorn Stakes | I | $300,000 |
| Ogden Phipps Handicap | I | $400,000 |
| Vagrancy Handicap | II | $200,000 |
| Brooklyn Handicap | II | $200,000 |
| Jaipur Stakes | III | $150,000 |
| Belmont Stakes | I | $1000,000 |
| Just A Game Stakes | I | $500,000 |
| Manhattan Handicap | I | $500,000 |
| True North Handicap | II | $400,000 |
| Woody Stephens Stakes | II | $400,000 |
| Hill Prince Stakes | III | $150,000 |
| Mother Goose Stakes | I | $300,000 |
| New York Stakes | II | $200,000 |
| Dwyer Stakes | II | $200,000 |
| Bed O'Roses Handicap | III | $150,000 |
| Poker Stakes | III | $150,000 |
| Suburban Handicap | II | $350,000 |
| Victory Ride Stakes | III | $150,000 |
| Man O'War Stakes | I | $600,000 |
| Bowling Green Handicap | II | $150,000 |
| Garden City Stakes | I | $250,000 |
| Noble Damsel Stakes | III | $100,000 |
| Gallant Bloom Handicap | II | $150,000 |
| Kelso Handicap | II | $200,000 |
| Flower Bowl Invitational Stakes | I | $500,000 |
| Beldame Invitational Stakes | I | $350,000 |
| Joe Hirsch Turf Classic Invitational Stakes | I | $500,000 |
| Jockey Club Gold Cup | I | $750,000 |
| Vosburgh Invitational Stakes | I | $350,000 |
| Miss Grillo Stakes | III | $100,000 |
| Pilgrim Stakes | III | $100,000 |
| Tempted Stakes | III | $100,000 |
| Nashua Stakes | II | $150,000 |
| Frizette Stakes | I | $300,000 |
| Jamaica Handicap | I | $250,000 |
| Champagne Stakes | I | $300,000 |
| Athenia Stakes | III | $100,000 |
| Knickerbocker Stakes | III | $100,000 |
| Turnback The Alarm Handicap | III | $100,000 |
| Bold Ruler Handicap | III | $100,000 |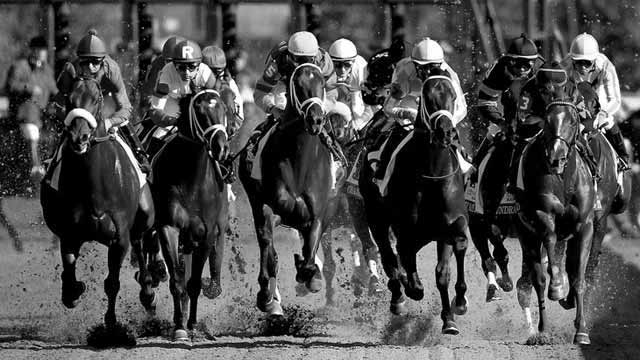 Bet Horse Racing with OTB