Joe Hirsch Turf Classic Invitational Stakes
The Joe Hirsch Turf Classic Invitational is an American Grade I stakes race on turf established in 1977 for Thoroughbred racehorses three years old and up. Currently held at Belmont Park, New York in October, it is named in honor of Joe Hirsch, the award-winning racing columnist and founding president of the National Turf Writers Association. Joe Hirsch, aged 80, died on January 9, 2009.
The race was first run as the "Aqueduct Turf Classic Invitational Stakes" at Aqueduct Racetrack from 1977 to 1979 and again from 1981 to 1983. Shortened to being called just the "Turf Classic" in 1983, it is raced at a distance of 1-1/2 miles and at one time drew the top Thoroughbreds from the U.S. and Europe when it was part of a million dollar bonus for any horse who won it plus the Canadian International Stakes at Woodbine Racetrack in Toronto and the Washington, D.C., International at Laurel Park Racecourse in Laurel, Maryland. The inaugural 1977 race was won by Johnny D., ridden by 17-year-old Steve Cauthen. The race has also been won by champions such as April Run (1981 and 1982), All Along (1983), and John Henry (1984). The race record stands at 2:24 2/5, set in 1992 by the Sam-Son Farm colt, Sky Classic.
Belmont Park Graded Stakes Races
| Stakes Race | Grade | Purse |
| --- | --- | --- |
| Westchester Handicap | III | $150,000 |
| Beaugay Stakes | III | $150,000 |
| Fort Marcy Stakes | III | $100,000 |
| Peter Pan Stakes | II | $200,000 |
| Sheepshead Bay Stakes | II | $250,000 |
| Metropolitan Handicap | I | $750,000 |
| Sands Point Stakes | II | $200,000 |
| Acorn Stakes | I | $300,000 |
| Ogden Phipps Handicap | I | $400,000 |
| Vagrancy Handicap | II | $200,000 |
| Brooklyn Handicap | II | $200,000 |
| Jaipur Stakes | III | $150,000 |
| Belmont Stakes | I | $1000,000 |
| Just A Game Stakes | I | $500,000 |
| Manhattan Handicap | I | $500,000 |
| True North Handicap | II | $400,000 |
| Woody Stephens Stakes | II | $400,000 |
| Hill Prince Stakes | III | $150,000 |
| Mother Goose Stakes | I | $300,000 |
| New York Stakes | II | $200,000 |
| Dwyer Stakes | II | $200,000 |
| Bed O'Roses Handicap | III | $150,000 |
| Poker Stakes | III | $150,000 |
| Suburban Handicap | II | $350,000 |
| Victory Ride Stakes | III | $150,000 |
| Man O'War Stakes | I | $600,000 |
| Bowling Green Handicap | II | $150,000 |
| Garden City Stakes | I | $250,000 |
| Noble Damsel Stakes | III | $100,000 |
| Gallant Bloom Handicap | II | $150,000 |
| Kelso Handicap | II | $200,000 |
| Flower Bowl Invitational Stakes | I | $500,000 |
| Beldame Invitational Stakes | I | $350,000 |
| Joe Hirsch Turf Classic Invitational Stakes | I | $500,000 |
| Jockey Club Gold Cup | I | $750,000 |
| Vosburgh Invitational Stakes | I | $350,000 |
| Miss Grillo Stakes | III | $100,000 |
| Pilgrim Stakes | III | $100,000 |
| Tempted Stakes | III | $100,000 |
| Nashua Stakes | II | $150,000 |
| Frizette Stakes | I | $300,000 |
| Jamaica Handicap | I | $250,000 |
| Champagne Stakes | I | $300,000 |
| Athenia Stakes | III | $100,000 |
| Knickerbocker Stakes | III | $100,000 |
| Turnback The Alarm Handicap | III | $100,000 |
| Bold Ruler Handicap | III | $100,000 |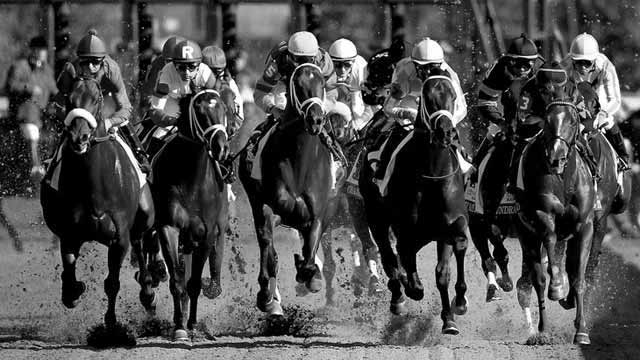 Bet Horse Racing with OTB