Gallant Bloom Handicap
The Gallant Bloom Handicap is an American Thoroughbred horse race run annually in September at Belmont Park on Long Island, New York. A Grade II event open to fillies and mares age three and up, it is contested at a distance of six and a half furlongs on the dirt.
Gallant Bloom won the Eclipse Award for Outstanding Two-Year-Old Filly champion of 1968, the 1969 American Champion Three-Year-Old Filly and the 1969 American Champion Older Female Horse. In The Blood-Horse ranking of the top 100 U.S. thoroughbred champions of the 20th Century, Gallant Bloon is ranked #79. The inaugural race was run at six furlongs in 1994.
Belmont Park Graded Stakes Races
| Stakes Race | Grade | Purse |
| --- | --- | --- |
| Westchester Handicap | III | $150,000 |
| Beaugay Stakes | III | $150,000 |
| Fort Marcy Stakes | III | $100,000 |
| Peter Pan Stakes | II | $200,000 |
| Sheepshead Bay Stakes | II | $250,000 |
| Metropolitan Handicap | I | $750,000 |
| Sands Point Stakes | II | $200,000 |
| Acorn Stakes | I | $300,000 |
| Ogden Phipps Handicap | I | $400,000 |
| Vagrancy Handicap | II | $200,000 |
| Brooklyn Handicap | II | $200,000 |
| Jaipur Stakes | III | $150,000 |
| Belmont Stakes | I | $1000,000 |
| Just A Game Stakes | I | $500,000 |
| Manhattan Handicap | I | $500,000 |
| True North Handicap | II | $400,000 |
| Woody Stephens Stakes | II | $400,000 |
| Hill Prince Stakes | III | $150,000 |
| Mother Goose Stakes | I | $300,000 |
| New York Stakes | II | $200,000 |
| Dwyer Stakes | II | $200,000 |
| Bed O'Roses Handicap | III | $150,000 |
| Poker Stakes | III | $150,000 |
| Suburban Handicap | II | $350,000 |
| Victory Ride Stakes | III | $150,000 |
| Man O'War Stakes | I | $600,000 |
| Bowling Green Handicap | II | $150,000 |
| Garden City Stakes | I | $250,000 |
| Noble Damsel Stakes | III | $100,000 |
| Gallant Bloom Handicap | II | $150,000 |
| Kelso Handicap | II | $200,000 |
| Flower Bowl Invitational Stakes | I | $500,000 |
| Beldame Invitational Stakes | I | $350,000 |
| Joe Hirsch Turf Classic Invitational Stakes | I | $500,000 |
| Jockey Club Gold Cup | I | $750,000 |
| Vosburgh Invitational Stakes | I | $350,000 |
| Miss Grillo Stakes | III | $100,000 |
| Pilgrim Stakes | III | $100,000 |
| Tempted Stakes | III | $100,000 |
| Nashua Stakes | II | $150,000 |
| Frizette Stakes | I | $300,000 |
| Jamaica Handicap | I | $250,000 |
| Champagne Stakes | I | $300,000 |
| Athenia Stakes | III | $100,000 |
| Knickerbocker Stakes | III | $100,000 |
| Turnback The Alarm Handicap | III | $100,000 |
| Bold Ruler Handicap | III | $100,000 |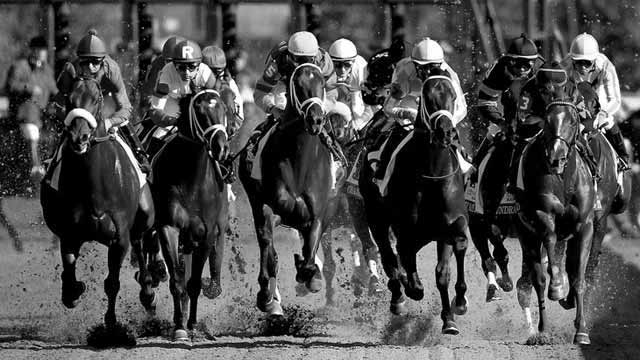 Bet Horse Racing with OTB