Knickerbocker Stakes
The Knickerbocker Handicap is an American Grade III race on turf for Thoroughbred horses run each year at Aqueduct Racetrack in Queens, New York, or alternately at Belmont Park in New York. The Knickerbocker is open to three-year-olds and up, and set at a distance of one mile and one furlong. (One and one-eighth of a mile.) Run in late October, it currently offers a purse of $100,000 added. The Knickerbocker is named for a fictional character, Diedrich Knickerbocker, from Washington Irving's Knickerbocker History of New York a spoof on the imagined colony of New Netherland.
Other than Aqueduct, the race was run at Belmont Park in 1962, 1975, 2001 and 2009. Set at a mile and five eighths in 1960, 1961, and from 1971 to 1974; at a mile and three sixteenths from 1963 to 1969; at a mile and five sixteenths in 1970; at a mile and three eighths in 1962, 1975, 1976, and from 1978 to 1986; and at a mile and a quarter in 1995 and 2001. It was run at a mile and an eighth all other years. It was also run in two divisions in 1963, 1967, 1969, 1976, 1977, 1980, 1981, 1982, 1983, and 1985.
T.V. Lark won this race in its second running, 1961. Jockey Jean Cruguet has won this race seven times: 1992, 1988, 1986, 1985, 1978, and both divisions in 1977.
Belmont Park Graded Stakes Races
| Stakes Race | Grade | Purse |
| --- | --- | --- |
| Westchester Handicap | III | $150,000 |
| Beaugay Stakes | III | $150,000 |
| Fort Marcy Stakes | III | $100,000 |
| Peter Pan Stakes | II | $200,000 |
| Sheepshead Bay Stakes | II | $250,000 |
| Metropolitan Handicap | I | $750,000 |
| Sands Point Stakes | II | $200,000 |
| Acorn Stakes | I | $300,000 |
| Ogden Phipps Handicap | I | $400,000 |
| Vagrancy Handicap | II | $200,000 |
| Brooklyn Handicap | II | $200,000 |
| Jaipur Stakes | III | $150,000 |
| Belmont Stakes | I | $1000,000 |
| Just A Game Stakes | I | $500,000 |
| Manhattan Handicap | I | $500,000 |
| True North Handicap | II | $400,000 |
| Woody Stephens Stakes | II | $400,000 |
| Hill Prince Stakes | III | $150,000 |
| Mother Goose Stakes | I | $300,000 |
| New York Stakes | II | $200,000 |
| Dwyer Stakes | II | $200,000 |
| Bed O'Roses Handicap | III | $150,000 |
| Poker Stakes | III | $150,000 |
| Suburban Handicap | II | $350,000 |
| Victory Ride Stakes | III | $150,000 |
| Man O'War Stakes | I | $600,000 |
| Bowling Green Handicap | II | $150,000 |
| Garden City Stakes | I | $250,000 |
| Noble Damsel Stakes | III | $100,000 |
| Gallant Bloom Handicap | II | $150,000 |
| Kelso Handicap | II | $200,000 |
| Flower Bowl Invitational Stakes | I | $500,000 |
| Beldame Invitational Stakes | I | $350,000 |
| Joe Hirsch Turf Classic Invitational Stakes | I | $500,000 |
| Jockey Club Gold Cup | I | $750,000 |
| Vosburgh Invitational Stakes | I | $350,000 |
| Miss Grillo Stakes | III | $100,000 |
| Pilgrim Stakes | III | $100,000 |
| Tempted Stakes | III | $100,000 |
| Nashua Stakes | II | $150,000 |
| Frizette Stakes | I | $300,000 |
| Jamaica Handicap | I | $250,000 |
| Champagne Stakes | I | $300,000 |
| Athenia Stakes | III | $100,000 |
| Knickerbocker Stakes | III | $100,000 |
| Turnback The Alarm Handicap | III | $100,000 |
| Bold Ruler Handicap | III | $100,000 |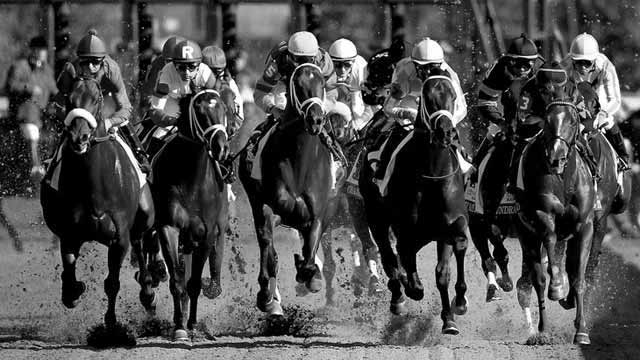 Bet Horse Racing with OTB