Queen's Plate Stakes
The Queen's Plate is Canada's oldest thoroughbred horse race. It is run at a distance of 1-1/4 miles for 3-year-old thoroughbred horses foaled in Canada. The race takes place each summer in June or July at Woodbine Racetrack, Etobicoke (Toronto), Ontario. For safety reasons, since 1995 the race has been limited to a maximum of 17 starters.
The Queen's Plate was founded in 1860 by Queen Victoria. Victoria's son-in-law, The Duke of Argyll, while serving as Governor General of Canada, in 1881 toured Ontario with his wife, Princess Louise, Duchess of Argyll, becoming the first royals to attend the Queen's Plate.
The Queen's Plate celebrated its 150th running on June 21, 2009. On July 4, 2010 Queen Elizabeth II attended and viewed the 151st race as part of her royal tour of Canada. The first race in the Canadian Triple Crown, it is followed by the Prince of Wales Stakes in July and the Breeders' Stakes in August.
Initiated in 1859 by the then president of the Toronto Turf Club, Sir Casimir Gzowski, a distinguished Polish engineer and ancestor of the popular Canadian broadcaster, Peter Gzowski, the Queen's Plate was inaugurated on June 27, 1860, at the Carleton racetrack in Toronto, Ontario. The prize of 50 guineas was originally awarded by Queen Victoria. Elizabeth II, as Queen of Canada, is patron of the event, and various other members of the Canadian Royal Family have been in attendance through the years. Elizabeth II's most recent visit to the race came on her state visit to Canada in early July 2010.
Horses owned by Windfields Farm have won the Queen's Plate eleven times, but the most successful was the stable owned by Joseph E. Seagram, a prominent distiller from Waterloo, Ontario. Seagram's stable won it on twenty occasions between 1891 and 1935 including eight times in a row between 1891 and 1898, and ten times in eleven years from 1891 to 1901. The record time for the race since 1957 when it was run at 1¼ miles is 2:01 4/5 set by Kinghaven Farms Izvestia in 1990. In 2006, Josie Carroll became the first woman trainer to ever win the Queen's Plate. In 2007, Emma-Jayne Wilson became the first female jockey to win the race.
Woodbine Racetrack Graded Stakes Races
| Stakes Race | Grade | Purse |
| --- | --- | --- |
| Eclipse Stakes | III | $150,000 |
| Nassau Stakes | II | $300,000 |
| King Edward Stakes | II | $250,000 |
| Highlander Stakes | II | $200,000 |
| Singspiel Stakes | III | $150,000 |
| Queen's Plate Stakes | I | $1,000,000 |
| Dominion Day Stakes | III | $200,000 |
| Dance Smartly Stakes | II | $300,000 |
| Ontario Matron Stakes | III | $150,000 |
| Nijinsky Stakes | II | $300,000 |
| Royal North Stakes | III | $150,000 |
| Sky Classic Stakes | II | $250,000 |
| Ontario Colleen Stakes | III | $150,000 |
| Play the King Stakes | II | $200,000 |
| Seaway Stakes | III | $150,000 |
| Natalma Stakes | III | $200,000 |
| Summer Stakes | III | $250,000 |
| Canadian Stakes | II | $300,000 |
| Northern Dancer Turf Stakes | I | $500,000 |
| Woodbine Mile Stakes | I | $1,000,000 |
| Selene Stakes | III | $250,000 |
| Grey Stakes | III | $200,000 |
| Nearctic Stakes | I | $500,000 |
| E.P. Taylor Stakes | I | $1,000,000 |
| Canadian International Stakes | I | $1,500,000 |
| Autumn Stakes | II | $150,000 |
| Kennedy Road Stakes | III | $150,000 |
| Bessarabian Stakes | III | $150,000 |
| Valedictory Stakes | III | $150,000 |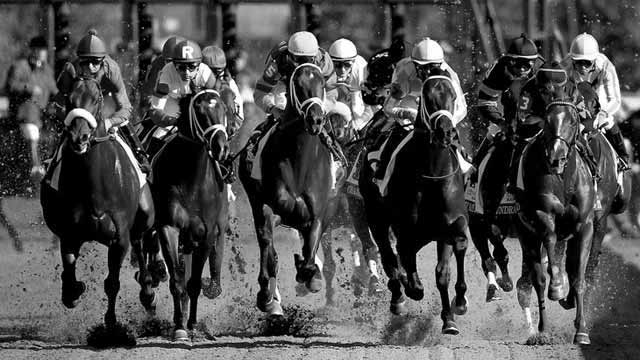 Bet Horse Racing with OTB