Makers Mark Mile Stakes
The Maker's Mark Mile Stakes is an American Grade I Thoroughbred horse race run annually during the second week of April at Keeneland Race Course in Lexington, Kentucky. Open to horses age four and older, it is contested on turf at a distance of one mile (8 furlongs).
Inaugurated as the Fort Harrod Stakes in 1989 at a distance of about 1 1/16 miles, since 1990 it has been contested at one mile. In 1997 distillers, Maker's Mark, began their sponsorship of the event. A Listed race in 1989 and 1990, it was a Grade 3 race from 1991 through 1999 and a Grade 2 race from 2000 through 2007. In 2008 it was upgraded to it's current Grade I status.
Keeneland Race Course Graded Stakes Races
| Stakes Race | Grade | Purse |
| --- | --- | --- |
| Transylvania Stakes | III | $100,000 |
| Ashland Stakes | I | $400,000 |
| Madison Stakes | I | $300,000 |
| Maker's Mark Mile Stakes | I | $300,000 |
| Shakertown Stakes | III | $100,000 |
| Jenny Wiley Stakes | II | $200,000 |
| Commonwealth Stakes | II | $175,000 |
| Blue Grass Stakes | I | $750,000 |
| Beaumont Stakes | II | $150,000 |
| Appalachian Stakes | III | $100,000 |
| Doubledogdare Stakes | III | $100,000 |
| Ben Ali Stakes | III | $150,000 |
| Lexington Stakes | III | $200,000 |
| Bewitch Stakes | III | $150,000 |
| Elkhorn Stakes | II | $150,000 |
| Phoenix Stakes | III | $175,000 |
| Darley Alcibiades Stakes | I | $400,000 |
| Woodford Stakes | III | $100,000 |
| Thoroughbred Club of America Stakes | II | $200,000 |
| First Lady Stakes | I | $350,000 |
| Shadwell Turf Mile Stakes | I | $600,000 |
| Dixiana Breeders' Futurity Stakes | I | $400,000 |
| Bourbon Stakes | III | $100,000 |
| Juddmonte Spinster Stakes | I | $500,000 |
| Jessamine Stakes | III | $150,000 |
| Queen Elizabeth II Challenge Cup Stakes | I | $400,000 |
| Sycamore Stakes | III | $100,000 |
| Valley View Stakes | III | $150,000 |
| Raven Run Stakes | II | $250,000 |
| Fayette Stakes | II | $150,000 |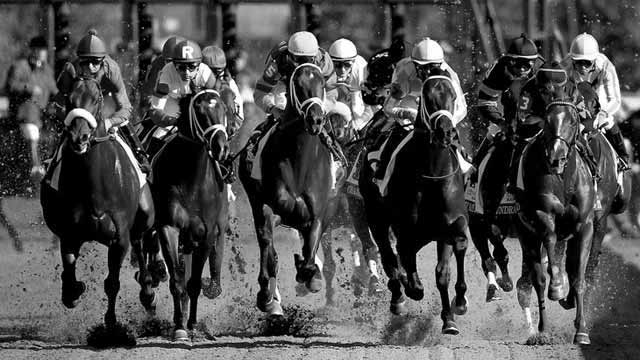 Bet Horse Racing with OTB