Shadwell Turf Mile Stakes
The Shadwell Turf Mile Stakes is a Grade I American thoroughbred horse race run annually since 1986 at Keeneland Race Course near Lexington, Kentucky. Open to horses three-year-old and up, it is raced on turf over a distance of one mile. The race is held in early October and offers a purse of $600,000. Part of the Breeders' Cup Challenge series, the winner of the Shadwell Turf Mile Stakes automatically qualifies for the Breeders' Cup Mile.
A Grade I since 2002, it was a Listed race in 1986 and 1987, a Grade III from 1988 through 1997 and a Grade II from 1998 through 2001. The race was contested at 1 1/8 miles from 1986 through 1993 but was modified to its present one mile format in 1994. Sponsored by Shadwell Farm's Kentucky division, the race is one of the final major prep races for the Breeders' Cup Mile.
Keeneland Race Course Graded Stakes Races
| Stakes Race | Grade | Purse |
| --- | --- | --- |
| Transylvania Stakes | III | $100,000 |
| Ashland Stakes | I | $400,000 |
| Madison Stakes | I | $300,000 |
| Maker's Mark Mile Stakes | I | $300,000 |
| Shakertown Stakes | III | $100,000 |
| Jenny Wiley Stakes | II | $200,000 |
| Commonwealth Stakes | II | $175,000 |
| Blue Grass Stakes | I | $750,000 |
| Beaumont Stakes | II | $150,000 |
| Appalachian Stakes | III | $100,000 |
| Doubledogdare Stakes | III | $100,000 |
| Ben Ali Stakes | III | $150,000 |
| Lexington Stakes | III | $200,000 |
| Bewitch Stakes | III | $150,000 |
| Elkhorn Stakes | II | $150,000 |
| Phoenix Stakes | III | $175,000 |
| Darley Alcibiades Stakes | I | $400,000 |
| Woodford Stakes | III | $100,000 |
| Thoroughbred Club of America Stakes | II | $200,000 |
| First Lady Stakes | I | $350,000 |
| Shadwell Turf Mile Stakes | I | $600,000 |
| Dixiana Breeders' Futurity Stakes | I | $400,000 |
| Bourbon Stakes | III | $100,000 |
| Juddmonte Spinster Stakes | I | $500,000 |
| Jessamine Stakes | III | $150,000 |
| Queen Elizabeth II Challenge Cup Stakes | I | $400,000 |
| Sycamore Stakes | III | $100,000 |
| Valley View Stakes | III | $150,000 |
| Raven Run Stakes | II | $250,000 |
| Fayette Stakes | II | $150,000 |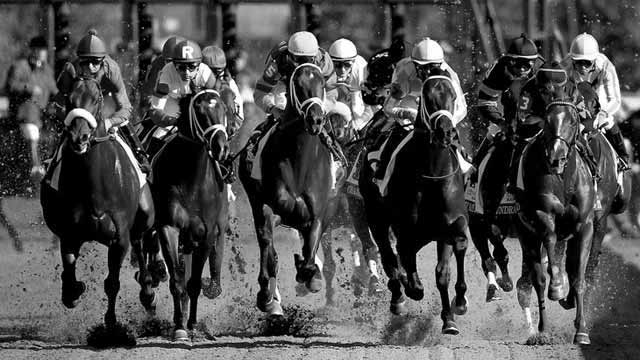 Bet Horse Racing with OTB