Dixiana Breeders' Futurity Stakes
The Breeders' Futurity Stakes is an American Grade I Thoroughbred horse race held annually in early October at Keeneland Race Course in Lexington, Kentucky. Currently offering a purse of $500,000, the race is open to two-year-old horses and is run at a distance of one and one-sixteenth miles on the Polytrack. From 1997 to 2008, the race was sponsored by Lane's End Farm. Starting in 2009, the race has been sponsored by Dixiana Farm.
The race is currently part of the Breeders' Cup Challenge series. The winner will automatically qualify for the Breeders' Cup Juvenile. It was first raced at the Kentucky Association track in Lexington in 1910 and was renewed each year thereafter through 1930. In 1931 through 1935, the race was shifted to the Latonia Race Track in Covington, Kentucky. The Futurity was revived at Keeneland in the fall of 1938 and during World War II, from 1943 through 1945 was renewed as part of the Churchill Downs fall meetings. The race was a Grade III event from 1973-1975, a Grade II from 1976 through 2003, and became a Grade 1 stakes in 2004. Over the years, it has been raced at various distances.
Keeneland Race Course Graded Stakes Races
| Stakes Race | Grade | Purse |
| --- | --- | --- |
| Transylvania Stakes | III | $100,000 |
| Ashland Stakes | I | $400,000 |
| Madison Stakes | I | $300,000 |
| Maker's Mark Mile Stakes | I | $300,000 |
| Shakertown Stakes | III | $100,000 |
| Jenny Wiley Stakes | II | $200,000 |
| Commonwealth Stakes | II | $175,000 |
| Blue Grass Stakes | I | $750,000 |
| Beaumont Stakes | II | $150,000 |
| Appalachian Stakes | III | $100,000 |
| Doubledogdare Stakes | III | $100,000 |
| Ben Ali Stakes | III | $150,000 |
| Lexington Stakes | III | $200,000 |
| Bewitch Stakes | III | $150,000 |
| Elkhorn Stakes | II | $150,000 |
| Phoenix Stakes | III | $175,000 |
| Darley Alcibiades Stakes | I | $400,000 |
| Woodford Stakes | III | $100,000 |
| Thoroughbred Club of America Stakes | II | $200,000 |
| First Lady Stakes | I | $350,000 |
| Shadwell Turf Mile Stakes | I | $600,000 |
| Dixiana Breeders' Futurity Stakes | I | $400,000 |
| Bourbon Stakes | III | $100,000 |
| Juddmonte Spinster Stakes | I | $500,000 |
| Jessamine Stakes | III | $150,000 |
| Queen Elizabeth II Challenge Cup Stakes | I | $400,000 |
| Sycamore Stakes | III | $100,000 |
| Valley View Stakes | III | $150,000 |
| Raven Run Stakes | II | $250,000 |
| Fayette Stakes | II | $150,000 |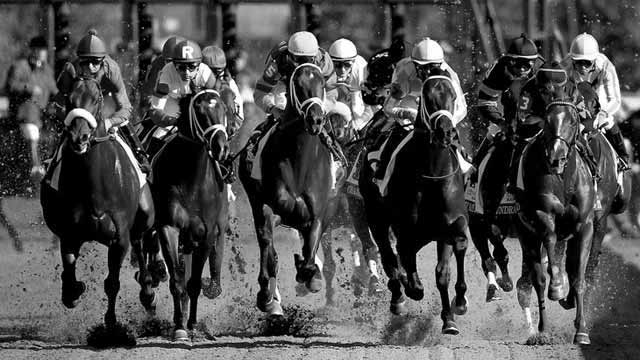 Bet Horse Racing with OTB