Doubledogdare Stakes
The Doubledogdare Stakes is an American Thoroughbred horse race run annually at Keeneland Race Course in Lexington, Kentucky. A Grade III event since 2007, it is open to fillies and mares, age four and older. The race is contested on Polytrack synthetic dirt over a distance of a mile and a sixteenth (8.5 furlongs).
The race was named for Doubledogdare, the filly who gave Claiborne Farm their first major stakes win at Keeneland in the 1955 Alcibiades Stakes. Doubledogdare went on to be voted that year's American Co-Champion Two-Year-Old Filly and returned to Keeland in 1956 to win the Spinster Stakes and would earn American Champion Three-Year-Old Filly honors.
Inaugurated in 1992 as a seven furlong event, Jeano won the inaugural running of the Doubledogdare Stakes by a nose. Jeano won again in 1994 to become the races only two-time winner. The 1995 and 1996 races were canceled after it failed to draw enough entries. In 1997, the event was run on turf at a distance of five and a half furlongs. It was won by Singing Heart in a new Keeneland course record of 1:02.40. A listed race in 1998, the distance was set ast its current mile and a sixteenth.
Keeneland Race Course Graded Stakes Races
| Stakes Race | Grade | Purse |
| --- | --- | --- |
| Transylvania Stakes | III | $100,000 |
| Ashland Stakes | I | $400,000 |
| Madison Stakes | I | $300,000 |
| Maker's Mark Mile Stakes | I | $300,000 |
| Shakertown Stakes | III | $100,000 |
| Jenny Wiley Stakes | II | $200,000 |
| Commonwealth Stakes | II | $175,000 |
| Blue Grass Stakes | I | $750,000 |
| Beaumont Stakes | II | $150,000 |
| Appalachian Stakes | III | $100,000 |
| Doubledogdare Stakes | III | $100,000 |
| Ben Ali Stakes | III | $150,000 |
| Lexington Stakes | III | $200,000 |
| Bewitch Stakes | III | $150,000 |
| Elkhorn Stakes | II | $150,000 |
| Phoenix Stakes | III | $175,000 |
| Darley Alcibiades Stakes | I | $400,000 |
| Woodford Stakes | III | $100,000 |
| Thoroughbred Club of America Stakes | II | $200,000 |
| First Lady Stakes | I | $350,000 |
| Shadwell Turf Mile Stakes | I | $600,000 |
| Dixiana Breeders' Futurity Stakes | I | $400,000 |
| Bourbon Stakes | III | $100,000 |
| Juddmonte Spinster Stakes | I | $500,000 |
| Jessamine Stakes | III | $150,000 |
| Queen Elizabeth II Challenge Cup Stakes | I | $400,000 |
| Sycamore Stakes | III | $100,000 |
| Valley View Stakes | III | $150,000 |
| Raven Run Stakes | II | $250,000 |
| Fayette Stakes | II | $150,000 |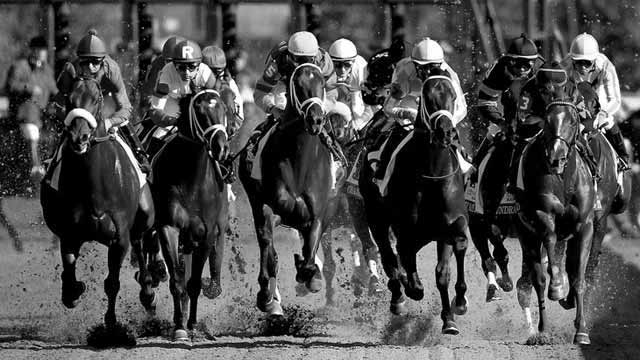 Bet Horse Racing with OTB