Frank E. Kilroe Mile
The Frank E. Kilroe Mile Handicap is an American Thoroughbred horse race, typically run in early March, at Santa Anita Park in Arcadia, California. Open to horses four years of age and older, it is raced over a distance of one mile (1.6 km). The Grade I race currently offers a purse of $300,000.
Inaugurated in 1960 as the Arcadia Handicap, it was raced at a distance of 1¼ miles until 1987. In 1972, the distance at which it was raced was "about" 1¼ miles. In 1975, 1976, 1978, 1983, 1995, the race was run on dirt. The race was open to three-year-olds and up in 1962. In 2010, Proviso became the first female to win the Kilroe in 51 runnings.
Santa Anita Park Graded Stakes Races
| Stakes Race | Grade | Purse |
| --- | --- | --- |
| Sir Beaufort Stakes | II | $150,000 |
| Malibu Stakes | I | $300,000 |
| La Brea Stakes | I | $300,000 |
| Robert J. Frankel Stakes | II | $150,000 |
| Monrovia Handicap | III | $100,000 |
| San Pasqual Stakes | II | $150,000 |
| Sham Stakes | III | $100,000 |
| Daytona Stakes | III | $100,000 |
| San Fernando Stakes | II | $150,000 |
| Santa Ynez Stakes | II | $150,000 |
| San Gabriel Stakes | II | $150,000 |
| Palos Verdes Stakes | II | $150,000 |
| La Cañada Stakes | II | $150,000 |
| Santa Monica Stakes | I | $300,000 |
| Santa Ysabel Stakes | III | $100,000 |
| Robert B. Lewis Stakes | II | $200,000 |
| Strub Stakes | II | $200,000 |
| Arcadia Stakes | II | $150,000 |
| San Antonio Stakes | II | $200,000 |
| San Marcos Stakes | II | $150,000 |
| Santa Maria Stakes | II | $200,000 |
| San Vicente Stakes | II | $150,000 |
| Buena Vista Handicap | II | $150,000 |
| San Carlos Handicap | II | $200,000 |
| Las Virgenes Stakes | I | $250,000 |
| Frank E. Kilroe Mile | I | $300,000 |
| Santa Anita Handicap | I | $750,000 |
| San Felipe Stakes | II | $300,000 |
| Las Flores Stakes | III | $100,000 |
| Santa Margarita Stakes | I | $300,000 |
| San Luis Rey Stakes | II | $150,000 |
| Tokyo City Cup | III | $100,000 |
| Santa Ana Stakes | II | $150,000 |
| Santa Anita Oaks | I | $300,000 |
| Santa Anita Derby | I | $750,000 |
| Potrero Grande Stakes | II | $150,000 |
| Providencia Stakes | III | $150,000 |
| Las Cienegas Handicap | III | $100,000 |
| Santa Barbara Handicap | II | $150,000 |
| San Simeon Handicap | III | $100,000 |
| San Juan Capistrano Handicap | II | $150,000 |
| Sen. Ken Maddy Stakes | III | $100,000 |
| Yellow Ribbon Stakes | I | $250,000 |
| Lady's Secret Stakes | I | $250,000 |
| Goodwood Stakes | I | $250,000 |
| Norfolk Stakes | I | $250,000 |
| Oak Leaf Stakes | I | $250,000 |
| Clement L. Hirsch Turf Championship | II | $150,000 |
| Oak Tree Mile | II | $150,000 |
| Ancient Title Stakes | I | $250,000 |
| Morvich Handicap | III | $100,000 |
| Oak Tree Derby | II | $150,000 |
| Harold C. Ramser Sr. Stakes | III | $100,000 |
| Las Palmas Stakes | II | $150,000 |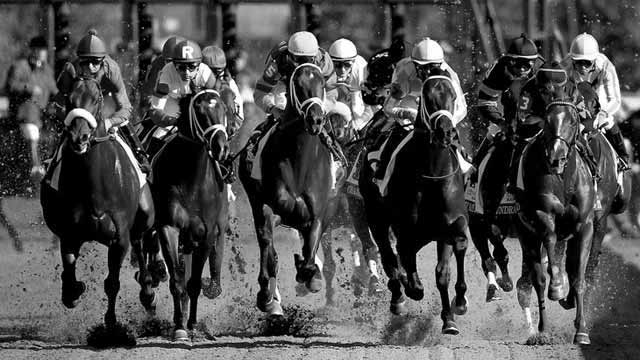 Bet Horse Racing with OTB