San Juan Capistrano Handicap
The San Juan Capistrano Invitational Handicap is an American invitational handicap Thoroughbred horse race run annually on turf at Santa Anita Park in Arcadia, California. It is North America's longest graded stakes race. Open to horses age four and older, the Grade II event currently offers a purse of $150,000. Run during the second half of April as the traditional closing-day feature at Santa Anita Park, at about 1 3/4 miles it is the longest grass race in America. Since 1965 it has been an invitational handicap.
Inaugurated in 1935, for 1940 only it was limited to three-year-olds and for three-year-olds and older in all other years prior to 1968. From its inception through 1953, the race was contested on dirt, then in 1954 it was converted to a turf event. Over the years, it has been run at various distances. In 1964, the San Juan Capistrano Invitational Handicap was run in two divisions.
With the increasing emphasis on speed horses bred to compete in the Kentucky Derby and Breeders' Cup Classic distance of 1 1/4 miles on dirt, during the last two decades longer races run on grass or dirt in North America have been in decline. Once a Grade I event, the about 1 3/4 miles San Juan Capistrano Invitational Handicap now holds a Grade II classification. Since 2007, the winner of the San Juan Capistrano has received ballot free entry into Australia's greatest horse race and the staying championship of the world, the Melbourne Cup. As of 2008, no San Juan Capistrano winner has made the trip to Flemington for the Melbourne Cup.
At age eight, Niarkos (1968) and Mashkour (1991) are the oldest horses to win the event. The March 11, 1966 edition of the San Juan Capistrano Invitational Handicap was seen by 60,792 fans, the largest crowd of the season, who turned out to say farewell to retiring U.S. Racing Hall of Fame jockey Johnny Longden. Fittingly, without ever using the whip as he always did, Longden guided George Royal from fifteen lengths back in last place to a thrilling photo-finish win.
Santa Anita Park Graded Stakes Races
| Stakes Race | Grade | Purse |
| --- | --- | --- |
| Sir Beaufort Stakes | II | $150,000 |
| Malibu Stakes | I | $300,000 |
| La Brea Stakes | I | $300,000 |
| Robert J. Frankel Stakes | II | $150,000 |
| Monrovia Handicap | III | $100,000 |
| San Pasqual Stakes | II | $150,000 |
| Sham Stakes | III | $100,000 |
| Daytona Stakes | III | $100,000 |
| San Fernando Stakes | II | $150,000 |
| Santa Ynez Stakes | II | $150,000 |
| San Gabriel Stakes | II | $150,000 |
| Palos Verdes Stakes | II | $150,000 |
| La Cañada Stakes | II | $150,000 |
| Santa Monica Stakes | I | $300,000 |
| Santa Ysabel Stakes | III | $100,000 |
| Robert B. Lewis Stakes | II | $200,000 |
| Strub Stakes | II | $200,000 |
| Arcadia Stakes | II | $150,000 |
| San Antonio Stakes | II | $200,000 |
| San Marcos Stakes | II | $150,000 |
| Santa Maria Stakes | II | $200,000 |
| San Vicente Stakes | II | $150,000 |
| Buena Vista Handicap | II | $150,000 |
| San Carlos Handicap | II | $200,000 |
| Las Virgenes Stakes | I | $250,000 |
| Frank E. Kilroe Mile | I | $300,000 |
| Santa Anita Handicap | I | $750,000 |
| San Felipe Stakes | II | $300,000 |
| Las Flores Stakes | III | $100,000 |
| Santa Margarita Stakes | I | $300,000 |
| San Luis Rey Stakes | II | $150,000 |
| Tokyo City Cup | III | $100,000 |
| Santa Ana Stakes | II | $150,000 |
| Santa Anita Oaks | I | $300,000 |
| Santa Anita Derby | I | $750,000 |
| Potrero Grande Stakes | II | $150,000 |
| Providencia Stakes | III | $150,000 |
| Las Cienegas Handicap | III | $100,000 |
| Santa Barbara Handicap | II | $150,000 |
| San Simeon Handicap | III | $100,000 |
| San Juan Capistrano Handicap | II | $150,000 |
| Sen. Ken Maddy Stakes | III | $100,000 |
| Yellow Ribbon Stakes | I | $250,000 |
| Lady's Secret Stakes | I | $250,000 |
| Goodwood Stakes | I | $250,000 |
| Norfolk Stakes | I | $250,000 |
| Oak Leaf Stakes | I | $250,000 |
| Clement L. Hirsch Turf Championship | II | $150,000 |
| Oak Tree Mile | II | $150,000 |
| Ancient Title Stakes | I | $250,000 |
| Morvich Handicap | III | $100,000 |
| Oak Tree Derby | II | $150,000 |
| Harold C. Ramser Sr. Stakes | III | $100,000 |
| Las Palmas Stakes | II | $150,000 |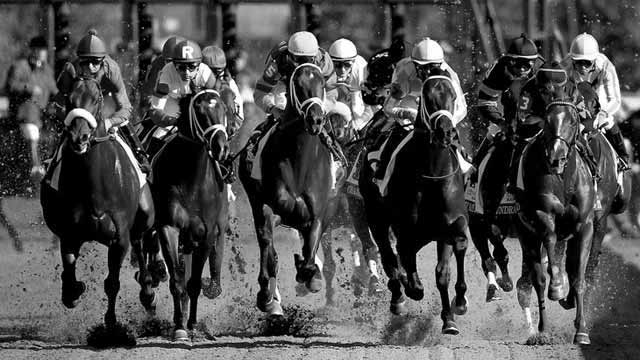 Bet Horse Racing with OTB