Santa Anita Handicap
The Santa Anita Handicap is an American Thoroughbred horse race held annually, typically run in early March, at Santa Anita Park in Arcadia, California. It is a Grade I race for horses four years old and up, and is considered the most important race for older horses in North America during the winter racing season. The ten furlong Santa Anita Handicap offers a purse of $750,000.
The first race was held in 1935, just months after the track opened in late 1934, and was for three-year-olds and up until 1969. The Santa Anita Handicap instantly became one of the nation's top races because it offered a minimum purse of $100,000, then a staggering amount for a horse race. In its early years, the race was most commonly referred to among horsemen and racing media as the "Hundred-Grander." Another nickname for the race dating back to that time, "The Big 'Cap," is still in regular use.
Probably the dominant figure in the early years of the race was the legendary Seabiscuit, as the race proved to be a metaphor for his career. In his first two attempts to win it in 1937 and 1938, he lost in photo finishes, with the second loss to a horse carrying 30 pounds less than he was. He suffered what was believed to be a career-ending injury while preparing for the 1939 edition. Amazingly, he came back to run in the Hundred-Grander in 1940, finally winning in what would be his last race.
Santa Anita Park Graded Stakes Races
| Stakes Race | Grade | Purse |
| --- | --- | --- |
| Sir Beaufort Stakes | II | $150,000 |
| Malibu Stakes | I | $300,000 |
| La Brea Stakes | I | $300,000 |
| Robert J. Frankel Stakes | II | $150,000 |
| Monrovia Handicap | III | $100,000 |
| San Pasqual Stakes | II | $150,000 |
| Sham Stakes | III | $100,000 |
| Daytona Stakes | III | $100,000 |
| San Fernando Stakes | II | $150,000 |
| Santa Ynez Stakes | II | $150,000 |
| San Gabriel Stakes | II | $150,000 |
| Palos Verdes Stakes | II | $150,000 |
| La Cañada Stakes | II | $150,000 |
| Santa Monica Stakes | I | $300,000 |
| Santa Ysabel Stakes | III | $100,000 |
| Robert B. Lewis Stakes | II | $200,000 |
| Strub Stakes | II | $200,000 |
| Arcadia Stakes | II | $150,000 |
| San Antonio Stakes | II | $200,000 |
| San Marcos Stakes | II | $150,000 |
| Santa Maria Stakes | II | $200,000 |
| San Vicente Stakes | II | $150,000 |
| Buena Vista Handicap | II | $150,000 |
| San Carlos Handicap | II | $200,000 |
| Las Virgenes Stakes | I | $250,000 |
| Frank E. Kilroe Mile | I | $300,000 |
| Santa Anita Handicap | I | $750,000 |
| San Felipe Stakes | II | $300,000 |
| Las Flores Stakes | III | $100,000 |
| Santa Margarita Stakes | I | $300,000 |
| San Luis Rey Stakes | II | $150,000 |
| Tokyo City Cup | III | $100,000 |
| Santa Ana Stakes | II | $150,000 |
| Santa Anita Oaks | I | $300,000 |
| Santa Anita Derby | I | $750,000 |
| Potrero Grande Stakes | II | $150,000 |
| Providencia Stakes | III | $150,000 |
| Las Cienegas Handicap | III | $100,000 |
| Santa Barbara Handicap | II | $150,000 |
| San Simeon Handicap | III | $100,000 |
| San Juan Capistrano Handicap | II | $150,000 |
| Sen. Ken Maddy Stakes | III | $100,000 |
| Yellow Ribbon Stakes | I | $250,000 |
| Lady's Secret Stakes | I | $250,000 |
| Goodwood Stakes | I | $250,000 |
| Norfolk Stakes | I | $250,000 |
| Oak Leaf Stakes | I | $250,000 |
| Clement L. Hirsch Turf Championship | II | $150,000 |
| Oak Tree Mile | II | $150,000 |
| Ancient Title Stakes | I | $250,000 |
| Morvich Handicap | III | $100,000 |
| Oak Tree Derby | II | $150,000 |
| Harold C. Ramser Sr. Stakes | III | $100,000 |
| Las Palmas Stakes | II | $150,000 |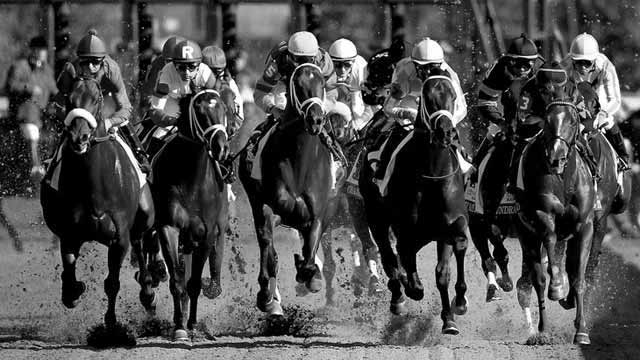 Bet Horse Racing with OTB