Santa Anita Derby
The Santa Anita Derby is an American Grade 1 thoroughbred horse race for three-year-olds run each April at Santa Anita Park in Arcadia, California and carries a purse of $750,000.
Inaugurated in 1935, it is considered one of the most important West Coast stepping-stones to the Kentucky Derby. Since its inception, six Santa Anita Derby winners have gone on to win the Kentucky Derby.
Now run at a distance of 1 1/8 miles (9 Furlongs), for the first three years it was 1 1/16 miles, and at 1 1/4 miles in 1947. Until 2008 the race had been run on dirt surface. The race has been contested on Cushion Track (2008) and Pro-Ride (2009 & 2010) artificial surfaces. In 2011, the race returned to dirt.
Prep races to the Santa Anita Derby include the San Rafael Stakes, San Miguel Stakes, San Felipe Stakes, Sham Stakes, San Vicente Stakes and the Santa Catalina Stakes, all run at Santa Anita Park. As a result of World War II, there were no races held from 1942 to 1944.
Santa Anita Park Graded Stakes Races
| Stakes Race | Grade | Purse |
| --- | --- | --- |
| Sir Beaufort Stakes | II | $150,000 |
| Malibu Stakes | I | $300,000 |
| La Brea Stakes | I | $300,000 |
| Robert J. Frankel Stakes | II | $150,000 |
| Monrovia Handicap | III | $100,000 |
| San Pasqual Stakes | II | $150,000 |
| Sham Stakes | III | $100,000 |
| Daytona Stakes | III | $100,000 |
| San Fernando Stakes | II | $150,000 |
| Santa Ynez Stakes | II | $150,000 |
| San Gabriel Stakes | II | $150,000 |
| Palos Verdes Stakes | II | $150,000 |
| La Cañada Stakes | II | $150,000 |
| Santa Monica Stakes | I | $300,000 |
| Santa Ysabel Stakes | III | $100,000 |
| Robert B. Lewis Stakes | II | $200,000 |
| Strub Stakes | II | $200,000 |
| Arcadia Stakes | II | $150,000 |
| San Antonio Stakes | II | $200,000 |
| San Marcos Stakes | II | $150,000 |
| Santa Maria Stakes | II | $200,000 |
| San Vicente Stakes | II | $150,000 |
| Buena Vista Handicap | II | $150,000 |
| San Carlos Handicap | II | $200,000 |
| Las Virgenes Stakes | I | $250,000 |
| Frank E. Kilroe Mile | I | $300,000 |
| Santa Anita Handicap | I | $750,000 |
| San Felipe Stakes | II | $300,000 |
| Las Flores Stakes | III | $100,000 |
| Santa Margarita Stakes | I | $300,000 |
| San Luis Rey Stakes | II | $150,000 |
| Tokyo City Cup | III | $100,000 |
| Santa Ana Stakes | II | $150,000 |
| Santa Anita Oaks | I | $300,000 |
| Santa Anita Derby | I | $750,000 |
| Potrero Grande Stakes | II | $150,000 |
| Providencia Stakes | III | $150,000 |
| Las Cienegas Handicap | III | $100,000 |
| Santa Barbara Handicap | II | $150,000 |
| San Simeon Handicap | III | $100,000 |
| San Juan Capistrano Handicap | II | $150,000 |
| Sen. Ken Maddy Stakes | III | $100,000 |
| Yellow Ribbon Stakes | I | $250,000 |
| Lady's Secret Stakes | I | $250,000 |
| Goodwood Stakes | I | $250,000 |
| Norfolk Stakes | I | $250,000 |
| Oak Leaf Stakes | I | $250,000 |
| Clement L. Hirsch Turf Championship | II | $150,000 |
| Oak Tree Mile | II | $150,000 |
| Ancient Title Stakes | I | $250,000 |
| Morvich Handicap | III | $100,000 |
| Oak Tree Derby | II | $150,000 |
| Harold C. Ramser Sr. Stakes | III | $100,000 |
| Las Palmas Stakes | II | $150,000 |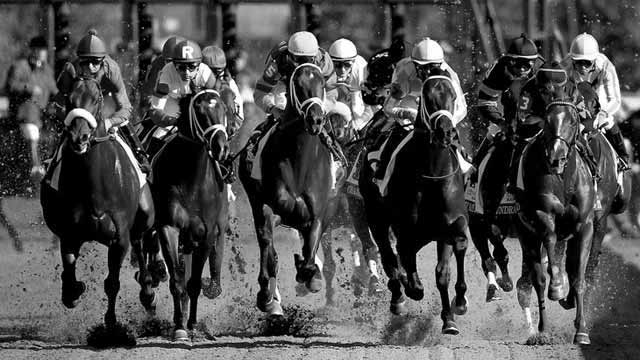 Bet Horse Racing with OTB