Santa Anita Park

Santa Anita Park is a thoroughbred racetrack in Arcadia, California, United States. It offers some of the prominent racing events in the United States during the winter and in spring. The track is home to numerous prestigious races including both the Santa Anita Derby and the Santa Anita Handicap. In 2010, Santa Anita's ownership was moved to MI Developments Inc.
Santa Anita has a one-mile synthetic "cushion" main track which rings a turf course measuring 9/10 of a mile, or 7 furlongs plus 132 feet. In addition, it has an unusual hillside turf course which crosses the dirt and is used mainly to run turf races at a distance of "about" 6-1/2 furlongs. This type of track is one of the few of its kind in America.
---
Santa Anita Park History
Santa Anita Park was opened on December 25, 1934 and is the oldest racetrack in Southern California. It was designed in the art deco style by architect Gordon B. Kaufman. Originally part of "Rancho Santa Anita", owned originally by former San Gabriel Mission Mayor-Domo, Claudio Lopez, named after a family member "Anita Cota". The ranch was later acquired by rancher, Hugo Reid, a Scotsman. Later, it would be owned by Gold prospector Lucky Baldwin. He initially founded a racetrack adjacent to the present site in what is today, Arcadia, outside of the city of Los Angeles in the 1904 but it closed in 1909 and burned in 1912. In 1933, California legalized parimutuel wagering and several investor groups worked to open racetracks. In the San Francisco area, a group headed by Dr. Charles H "Doc" Strub was having trouble locating a site. In the Los Angeles area a group headed by movie producer Hal Roach was in need of further funds. These two groups combined and the newly-formed Los Angeles Turf Club reopened the track on Christmas Day in 1934. In February 1935, the first Santa Anita Handicap was run. The race's $100,000 purse, the largest of any race ever in the United States until that time, produced its nickname the Big 'Cap.
Under the leadership of Doc Strub, Santa Anita initiated many innovations that are standard in today's thoroughbred horse racing such as the use of starting gates and photo finishes for every race. It is interesting to note that the implementation of photo finishes at Santa Anita actually recorded an increase in dead heats. Santa Anita was so successful that in its first year under Doc Strub's leadership, it paid its investors a 100% dividend on their investment.
In 1940, Seabiscuit won the Santa Anita Handicap in his last start. Two years later, in 1942, racing at Santa Anita was suspended due to the Second World War. From 1942 to 1944, Santa Anita was used as a Japanese American internment center with up to 17,000 people living in horse stables, including actor George Takei. After the track reopened in 1945, it went through the postwar years with prosperity. A downhill turf course, which added a distinctly European flair to racing at Santa Anita, was added in 1953.
A record 61,123 people showed up for the 1958 Santa Anita Derby, making the attendance that day a record crowd. They'd come to watch Silky Sullivan come from 28 lengths off the pace and win-going away.
The 1960s brought about a major renovation of Santa Anita Park, including a much-expanded grandstand as well as major seating additions. In 1968, Del Mar Racetrack relinquished its dates for a fall meeting. A group of horsemen including Clement Hirsch intervened and established the not-for-profit Oak Tree Racing Association. Oak Tree had no facilities of its own and rented Santa Anita Park for its first autumn meeting in 1969. The Oak Tree Association has since become the operator of the autumn meet at Santa Anita Park. This meet usually runs from the end of September until early November. Many key stakes races are held during the Oak Tree Meeting, including many preps to the Breeders' Cup races. Oak Tree has been given the privilege of holding the Breeders' Cup itself on five occasions: 1986, 1993, 2003, 2008, and 2009. The Oak Tree meet relocated to Hollywood Park for 2010 and the track has agreed to host a meet in 2011.
Prosperity continued at Santa Anita throughout the 1970s and the 1980s. In 1984, Santa Anita was the site of equestrian events at the 1984 Olympics. The following year, the track set an attendance record of 85,527 people on Santa Anita Handicap Day. However, recognizing the potential revenue boon to the State of California, the California Legislature expanded off track betting, bring operating betting parlors with in closer driving distance of the race-day tracks. While the Santa Anita meeting could still draw large crowds, attendance had decreased by a third. Only 56,810 people were at the park for Santa Anita Derby Day 2007 to witness a Grade I event.
The Seabiscuit statue was hand tooled by Frank Buchler, a German immigrant the owner of Washington Ornamental Iron Company Los Angeles. Washington Ornamental Iron Company built all the facilities.
In 1997, Santa Anita Park was acquired by Meditrust when it purchased the Santa Anita Companies for its unique Real Estate Investment Trust paired share corporate structure. Following the elimination of the special tax treatment accorded Pair Share REITS, Meditrust sold the track to Magna Entertainment Corp. Magna still owns Santa Anita Park. In 2006, Gulfstream Park and Santa Anita cohosted the Sunshine Millions, a day of competition with $3.6 million in stakes races between horses bred in the State of Florida and those bred in the State of California.
In 2006, there was a proposal to close Santa Anita Park and use its location as the site of a new retail/entertainment complex. This proposal was soundly defeated when the adjacent Westfield Santa Anita Mall (built in 1974 on the site of the old barns and training track) began its expansion, and due to the continuing popularity of the racetrack. In April 2008, a plan was approved to use large parts of the existing track parking lot to construct another mall. The "Shops at Santa Anita" were planned to open in 2010, no ground has been broken for the project, but it tentively scheduled for 2012.
Due to its proximity to Los Angeles, Santa Anita has traditionally been associated with the film and television industries. The racetrack sequences in the Marx Brothers classic "A Day at the Races" were filmed there, and many stars, including Bing Crosby, Spencer Tracy, Errol Flynn, Alex Trebek, and MGM mogul, Louis B. Mayer, have owned horses that raced there.
At Santa Anita Park's European-style paddock there are statues of jockeys George Woolf, Johnny Longden, Bill Shoemaker and Laffit Pincay, Jr. plus a memorial bust of announcer Joe Hernandez and one of trainer Charlie Whittingham with his dog, Toby. There is also a lifesize bronze of Seabiscuit in the walking ring at Seabiscuit Court; a similar bronze of John Henry was unveiled near the Seabiscuit statue in December 2009. Buried near the paddock is Emperor of Norfolk, the best horse Lucky Baldwin ever owned, along with three other great Baldwin horses: Volante, Silver Cloud, and Rey El Santa Anita, all four of them winners of the prestigious American Derby.
Since 1950, Santa Anita Park has annually presented the George Woolf Memorial Jockey Award to a rider who demonstrates high standards of personal and professional conduct, on and off the racetrack. South African native Trevor Denman has served as the track announcer at Santa Anita since 1983. Denman is noted for his calls beginning with "And awaaay they go..."
---
Santa Anita Park Live Horse Racing Schedule
Thursday through Sunday, occasional added days
---
Santa Anita Park Race Track Layout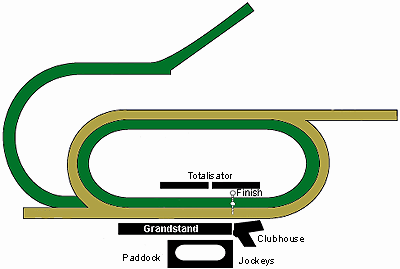 Main Track:One Mile, oval.


Inner Turf:Seven Furlongs, 132 ft.
Distance from last turn to finish line: 990 Feet.

---
Post Time at Santa Anita Park
1:00 p.m.
---
Santa Anita Park Track Code
SA
---
Current Weather Conditions at Santa Anita Park
Santa Anita Park Graded Stakes Races
| Stakes Race | Grade | Purse |
| --- | --- | --- |
| Sir Beaufort Stakes | II | $150,000 |
| Malibu Stakes | I | $300,000 |
| La Brea Stakes | I | $300,000 |
| Robert J. Frankel Stakes | II | $150,000 |
| Monrovia Handicap | III | $100,000 |
| San Pasqual Stakes | II | $150,000 |
| Sham Stakes | III | $100,000 |
| Daytona Stakes | III | $100,000 |
| San Fernando Stakes | II | $150,000 |
| Santa Ynez Stakes | II | $150,000 |
| San Gabriel Stakes | II | $150,000 |
| Palos Verdes Stakes | II | $150,000 |
| La Cañada Stakes | II | $150,000 |
| Santa Monica Stakes | I | $300,000 |
| Santa Ysabel Stakes | III | $100,000 |
| Robert B. Lewis Stakes | II | $200,000 |
| Strub Stakes | II | $200,000 |
| Arcadia Stakes | II | $150,000 |
| San Antonio Stakes | II | $200,000 |
| San Marcos Stakes | II | $150,000 |
| Santa Maria Stakes | II | $200,000 |
| San Vicente Stakes | II | $150,000 |
| Buena Vista Handicap | II | $150,000 |
| San Carlos Handicap | II | $200,000 |
| Las Virgenes Stakes | I | $250,000 |
| Frank E. Kilroe Mile | I | $300,000 |
| Santa Anita Handicap | I | $750,000 |
| San Felipe Stakes | II | $300,000 |
| Las Flores Stakes | III | $100,000 |
| Santa Margarita Stakes | I | $300,000 |
| San Luis Rey Stakes | II | $150,000 |
| Tokyo City Cup | III | $100,000 |
| Santa Ana Stakes | II | $150,000 |
| Santa Anita Oaks | I | $300,000 |
| Santa Anita Derby | I | $750,000 |
| Potrero Grande Stakes | II | $150,000 |
| Providencia Stakes | III | $150,000 |
| Las Cienegas Handicap | III | $100,000 |
| Santa Barbara Handicap | II | $150,000 |
| San Simeon Handicap | III | $100,000 |
| San Juan Capistrano Handicap | II | $150,000 |
| Sen. Ken Maddy Stakes | III | $100,000 |
| Yellow Ribbon Stakes | I | $250,000 |
| Lady's Secret Stakes | I | $250,000 |
| Goodwood Stakes | I | $250,000 |
| Norfolk Stakes | I | $250,000 |
| Oak Leaf Stakes | I | $250,000 |
| Clement L. Hirsch Turf Championship | II | $150,000 |
| Oak Tree Mile | II | $150,000 |
| Ancient Title Stakes | I | $250,000 |
| Morvich Handicap | III | $100,000 |
| Oak Tree Derby | II | $150,000 |
| Harold C. Ramser Sr. Stakes | III | $100,000 |
| Las Palmas Stakes | II | $150,000 |
Santa Anita Park Contact Information
Mailing Address:
Los Angeles Turf Club, Inc. P.O. Box 60014
Arcadia, California 91066
Street Address:
285 W. Huntington Dr.
Arcadia, California 91007
Website: www.santaanita.com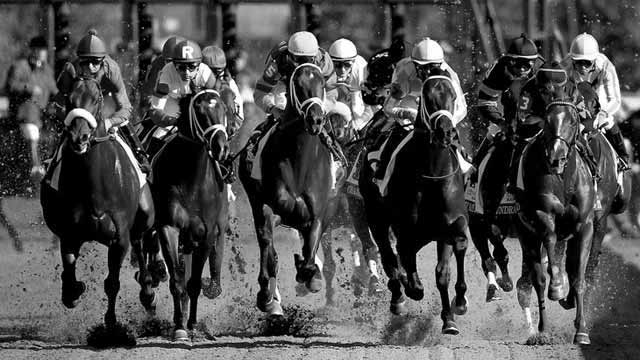 Bet Horse Racing with OTB